`
Water Smart Landscape Design Templates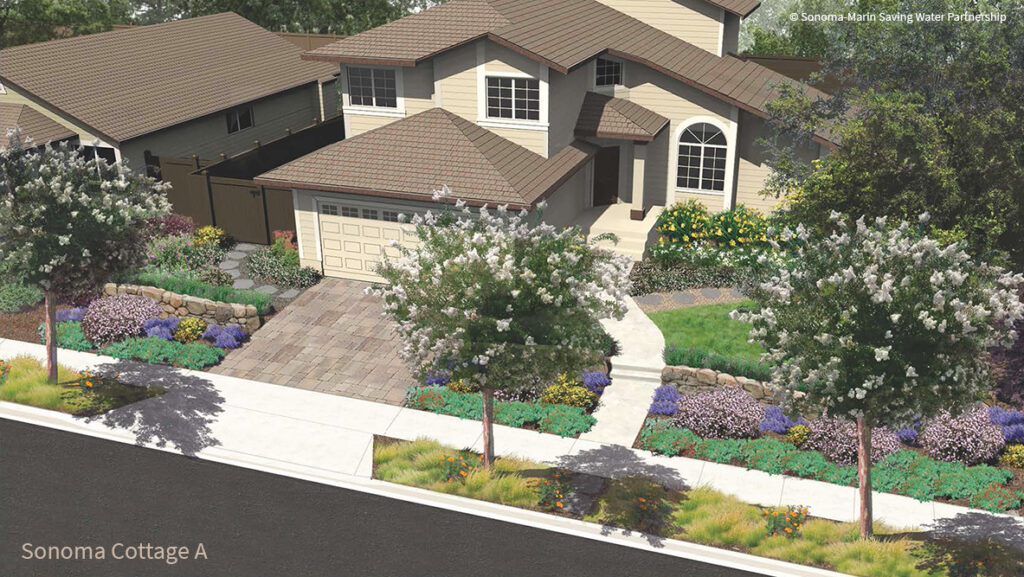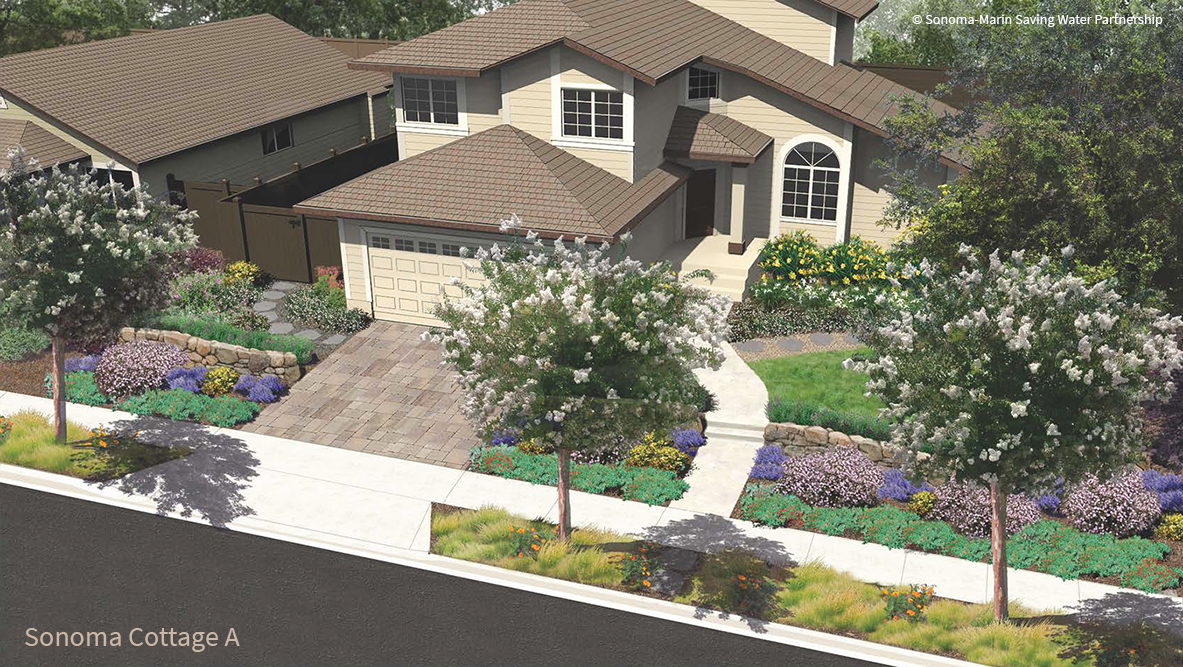 The Partnership has developed 8 free, scalable, water-efficient, front-yard landscape design templates. These are permit ready with your site specific modifications and user selectable options. However, there are some criteria that must be met in order for the plans to be applicable to your site:
The total front yard irrigated landscape area must be less than or equal to 2,500 square feet (SF), excluding hardscaping such as driveways, walkways and other non-irrigated areas. For sites with more than 2,500 SF of irrigated area, contact the permitting agency for guidance on applicability and any additional plan requirements.
The slope of the landscape area must not exceed 8%.
Overview
Style Options
The 8 front yard plans are available in two of each of these styles:
Sonoma Native/Adaptive – an emphasis on native and fire safer plants
Sonoma Eco-Edible – a mix of edible and habitat plantings that maximize sustainability
Sonoma Contemporary – a modern, minimalist and clean look that is easy to maintain
Sonoma Cottage – a Sonoma version of a cottage garden with natural materials and colorful plantings
Template Documentation Files
Before downloading the template files below, learn more about the types of documentation offered for each template.
Architectural Rendering
A three-dimensional computer generated rendering of the template installed as designed representing what the landscape might look like once matured.
Concept Plan
Hand-drawn illustration of full-yard concepts show the interconnectedness of the back and side yards with the front yard, displaying optional features that you may choose to incorporate such as rain water catchment, graywater systems, rain gardens, swales and laundry to landscape systems. While these features add costs, they need to be considered during home design and construction. Additions like stubbing out a line for graywater or grading the yards for rain gardens and swales can be done for little or no additional cost during construction so that the features can be added later on when you are ready to tackle home improvement projects in the future. (Note: The full-yard concept plans are not intended to be used for planting or permit purposes.)
Design Template
The Landscape Design Templates were developed to fit common lot sizes and shapes, but adjustments will need to be made to fit your specific front yard landscape area and marked onto the printed plan. Materials and optional features will also need to be selected and indicated on your plan.
Each plan is broken up into eight sections. Within sections L-1 and L-2, follow the "Applicant Instructions". In each of the remaining sections, indicate which features, materials and construction details will be used in building your landscape.
L-0.0 – Permit Cover Sheet
L-1.0 – Landscape Design and Planting Plan
L-2.0 – Irrigation Design Plan and Details: specifications for materials and construction which can be used for permitting purposes.
L-3.0 – Paving Details (Standard and Optional features): Each Design Template is now available with the driveway located on the left or right side of the home.
L-3.1 – Low Impact Development (LID) Details (Optional features)
L-3.2 – Planting Details
GW-1.0 – Graywater/Laundry to Landscape Details (Optional features)
RW-1.0 – Rainwater Harvesting Details (Optional features)
Cost Opinion
An opinion on the cost to install the landscape as designed. The cost options were developed for the Landscape Design Templates to provide a ballpark range of the cost to install the designs. The true cost to install the design is dependent upon many factors including fluctuations in the cost and availability of labor and materials. The cost opinions are not cost estimates or engineered cost estimates. Consult with your installation or design professional for an actual cost estimate.
Each plan has two cost opinions – one for the full plan as drawn and one for the "base plan" with all driveways and garden pathway paving options removed. An Excel worksheet is available for you to adjust the cost option to your yard.
The cost per square foot for each plan is not an accurate way to compare the cost between plans. Each plan is designed to a specific lot size. Templates designed for larger lots will always have a lower cost per square foot than templates designed for smaller lots. This is due to the fixed costs associated with irrigation components that all plans include which are spread out over a larger area.
When a plan designed for a smaller lot is enlarged, typically the cost per square foot will decrease. Conversely, when a plan designed for a larger lot is scaled down for a smaller lot, the cost per square foot will typically increase.
Understanding Abbreviations
O.C. – on center
SF – square feet
Sq Ft – square feet
FT – feet
LF – linear feet
" – inch/inches
' – foot/feet
G – gallon
Min – minimum
NTS – not to scale
Typ. – typical
Usage
Plants & Materials
Supplies & Suppliers
We've reached out to local suppliers to help make finding the materials you need a little easier. Below are local businesses who have responded to our request seeking the plants, materials, and equipment needed to build and install the designs in the Landscape Design Templates. While this list is not all inclusive or a recommendation/endorsement, it is a starting point to get you on your way.
Plant Substitutions
When making plant substitutions, be sure to choose plants with the same water needs, similar sun exposure and similar size (height and spread) as the ones being replaced. Indicate these changes on the planting plan (L-1) for initial permit review or during final inspection.
Plants in the landscape templates may be substituted using the following lists. Plants in the landscape templates are categorized either as low or medium water use. Use the appropriate plant list to substitute low or medium water use plants.
Images of the plants on the lists can be found at the Low and Medium Water Landscape Plants Gallery developed by Coffey Strong and our plant picker.
Ideas for Reducing the Cost of Landscape Installation
Planting
Plant fewer plants initially, filling in the rest over time as your budget allows. Prioritize plantings by installing trees and shrubs first, as they have longer lifespans and take longer to mature. Group plants in odd numbers for the best aesthetic appearance. Note: The City of Santa Rosa requires a minimum of one tree for every 200 SF of landscaped area and trees must be watered on a separate irrigation valve.
Use smaller plants than specified – 4-inch plants are significantly cheaper than 1-gallon plants. 2-inch plugs can also be used for grasses. The initial planting may look sparse, but they plants will fill in as they mature.
Hardscape & Pathways
Consider alternative hardscape and pathway materials that may be less expensive, more aesthetically appealing and better for the environment than concrete. See plan sheet L-3.0 in the template for optional pavement methods. Mulched areas can be converted to hardscape at a later date.
Some features, like driveways and landing pads, and tasks like site grading and soil preparation may already be budgeted or included in the cost of building your home and can be excluded from the landscaping costs. Coordinate with the architect and/or builder to include any design or material preferences.
Install mulch or gravel pathways in lieu of more expensive concrete, especially for paths that are less frequently used. The pathways can be redone with hardscape materials in the future if desired. Note: The City of Santa Rosa limits gravel areas to 15% of the landscape area.
Hiring Professionals & DIY
Break up the project and use a mix of professional and do-it-yourself (DIY) labor. Hire out hard to do tasks (needs specialized equipment, tools, or skills to perform) such as soil preparation and grading, irrigation system installation and hardscaping. Perform easier tasks like applying mulch and planting the plants yourself.
Parkway Strips
Defer the installation of the parkway strip (the area between the sidewalk and the street curb). Due to ongoing construction and removal of existing fire damaged trees, the City of Santa Rosa will allow the deferral of the installation of landscaping in the parkway strip. Install irrigation sleeve and irrigation stub out now to reduce cost and disturbance to the main landscape when the parkway strip landscaping is ready for installation.
Existing Landscape Elements
If there are any existing features incorporate them into the plan such as driveways, walkways and trees. Typically, it is more cost effective to abandon or remove existing irrigation systems as they may be outdated, inefficient or damaged or leaking.
Fire Safety and Wildland Urban Interface Requirements
Professional Assistance with Templates & Installation
A good plan makes a great landscape. If modifying the landscape design template to fit your site sounds complicated, consider hiring a landscape professional to assist you with the modifications. A small investment in help on the template will make big returns with successful installation.
Who To Hire
While we are not able to provide recommendations or referrals, the following resources are available:
Vetting Licensure
California Law stipulates that work performed for $500.00 or more for labor and materials must be accomplished by a licensed contractor. Be sure to verify licenses with the Consumer Affairs.
Printing For Permit
The templates are designed to be printed in a large format that is required for permit review. The Landscape Template plans sets consist of 10 to 12 pages depending on the design. The print size of each page will be 24" x 36" which is the standard size for architectural blueprints, though there is an optional 8.5″ x 11″ option for some pages.
We recommend color printing for the Planting Plan and Irrigation Plan pages. The color pages will help guide you through the different types of planting and irrigation areas.
Printing Guide &
Order Form
We have created a printing guide and order form to streamline the printing process. It includes a guide on what to print for submittal to the permitting agency and a checklist order form to provide to a print shop.
Printing Guide and Order Form
Printing Options
The form offers the choice between the standard, full set of plans and a partial option with some pages being replaced by 8.5″ x 11″ versions. Both printing options are acceptable for City of Santa Rosa permitting.
Full Plan Set Option
Print all of the pages full size (24" x 36").
Partial Plan Set Option
In an effort to make printing easier and less expensive, we have created these optional 8.5″ x 11″ (letter size) application and specification packets.
Planting Plan (L-1.0) and Irrigation Plan (L-2.0) sheets in full size (24" x 36")
Application and Specification packets in letter size (8.5′′ x 11′′) in lieu of full size pages L-0.0 and Detail Sheets
*Native Adaptive B and Sonoma Cottage B have two Planting Plan and two Irrigation Plan pages (L-1.0 – L-2.1) that must be printed in full size if using these templates.
To use this option, print out the Required Permit Application Packet and any detail sheets from the optional packets to submit with your Planting and Irrigation Plan sheets.
Print Shops
While, the Landscape Design Templates can be printed at any print shop capable of producing the required 24″ x 36″ plan sheet size, we have created a printing guide and order form to streamline the process.
The following print shops are familiar with the Landscape Design Templates and are prepared to accept the order form.
Maintenance Manual
The Water Smart Landscape Maintenance Manual guides users on how to maintain their newly installed landscape. Learn how to care for a newly planted landscape, when and how to perform tasks like pruning, make irrigation system adjustments and more.