Resilient Garden
Garden Features
7
Smart Irrigation Controller
Partner:
Habitat Corridor Project
This garden is what we call a resilient landscape. It is fire-wise, low water use, and biodiverse with 100% California native plants. The landscape was previously a swimming pool was transformed into a sustainable wonderland including a large swale, native bentgrass turf, walls made of boulders from the site, and of course habitat-friendly shrubs and perennials. The irrigation system is composed of Hunter MP Rotators on tall risers that are timed to give the plants and soil a good soak once a month in the summer overhead which helps the garden thrive and save water. To be fire-wise it is important to think of a landscape in terms of the distance from the house in zones. Zone 0 (0-5′ from the home should be mainly hardscape, rock or well-hydrated plants like bentgrass native turf.
City of Santa Rosa Water Conservation Resources:
As the dry weather persists, local reservoirs at all-time-lows, and with no significant rainfall on the horizon, it is critical that everyone continues to save water. The City has a community-wide water savings target of 20 percent. We hope that you will join with us in this commitment to conserve and use water efficiently, and that you will find the following water conservation programs, information, and links useful:
Rebates Available: To learn more about ways to save money and water, check out the full list of Santa Rosa's current programs.
WaterSmart Center: For updates on drought conditions and how-to videos to find and fix leaks.
Track Your Water Usage: City of Santa Rosa provides residents with an online portal to track water usage by the hour to know how much water you are using.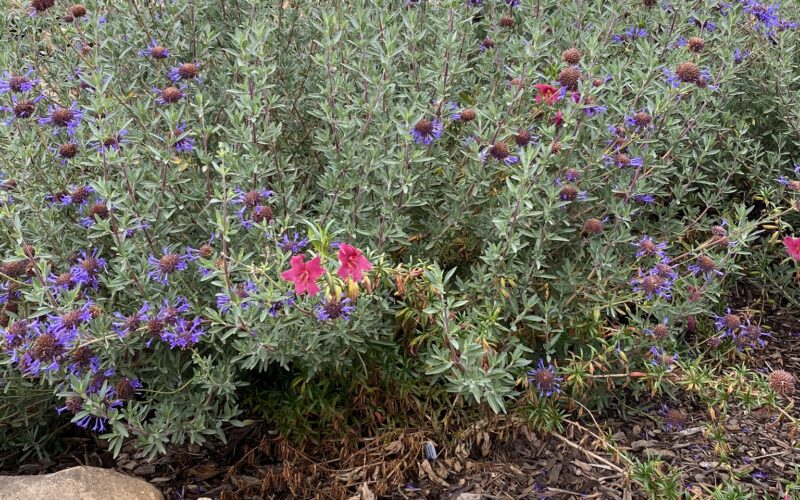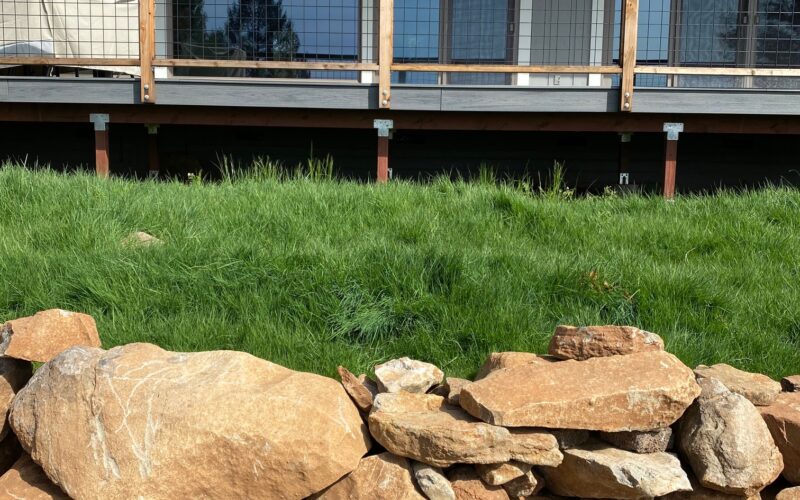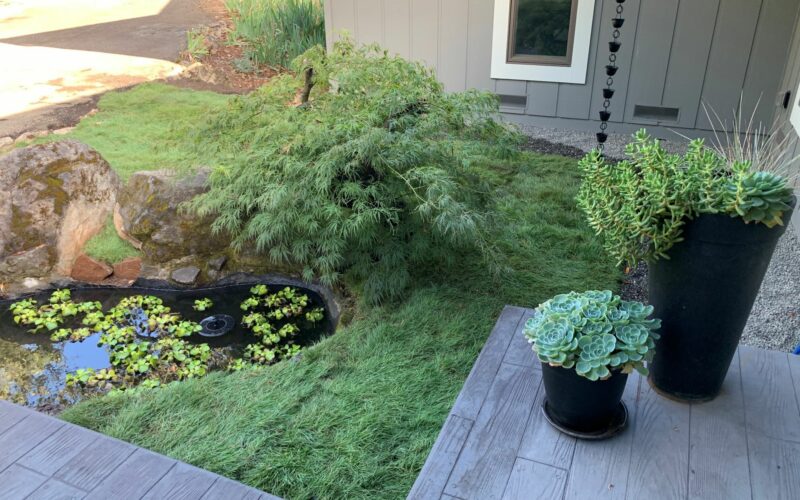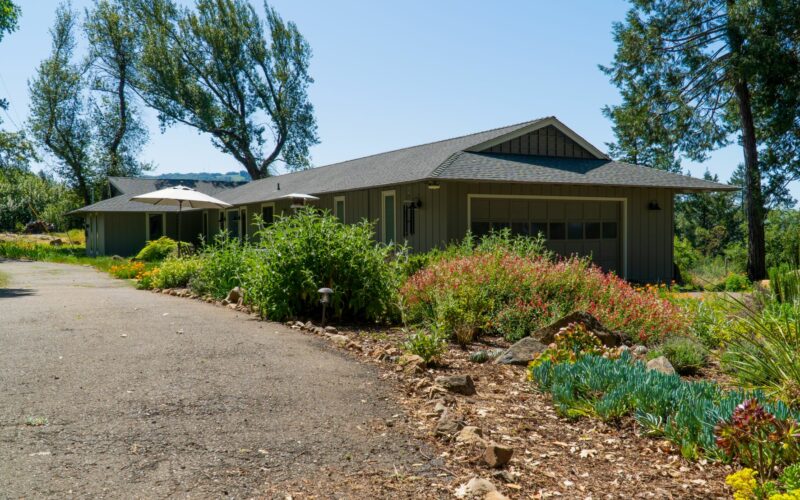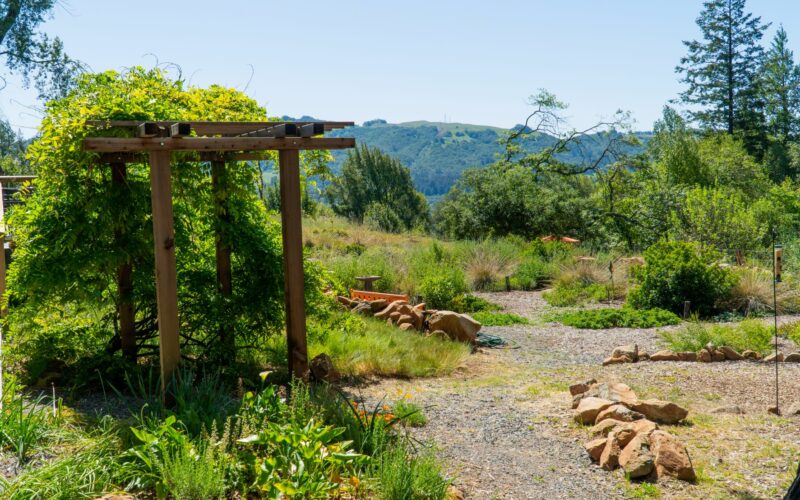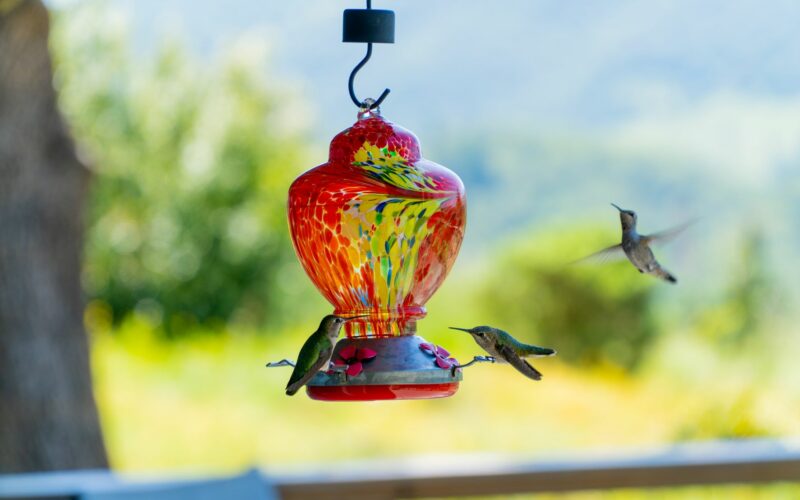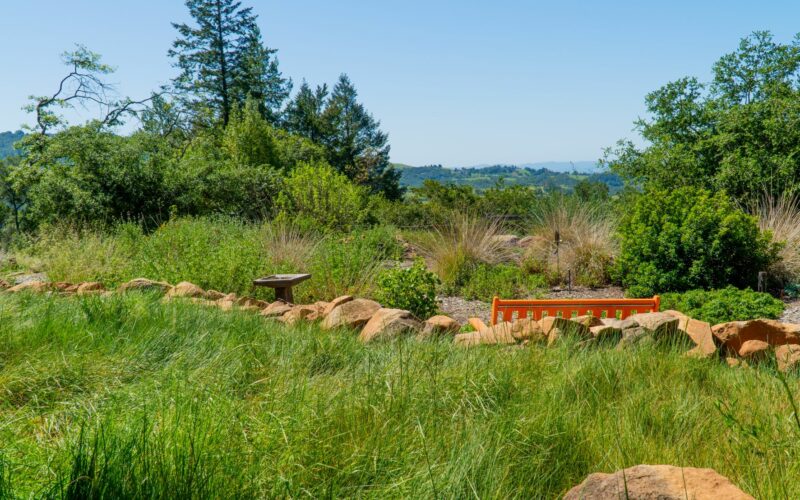 Plants in this Garden
Fremontodendron californica – Flannel Bush
Diplacus aurantiacus – Monkey Flower
Romneya coulteri – Matillija Poppy
Aster 'Pt. St. George'- Groundcover Aster
Ceanothus thrysiflorous – California Lilac
Arctostaphylos spp – Manzanita
Baccharis 'Twin Peaks' – Groundcover Coyote Brush
Monardella villosa 'Russian River' – Coyote Mint
Bentgrass Turf Delta Bluegrass Product
Favorite Plants
1
Salvia clevelandii (Cleveland's Sage)
2
Muhlenbergia rigens (Deer Grass)
3
Juncus patens (Blue Rush)
4
Frangula californica 'Mound San Bruno' (Coffeeberry)
5
Sphraelcea ambigua (Globe Mallow)
Favorite Garden Suppliers
California Flora Nursery
2990 Somers Street Fulton
CNPS - Milo Baker Chapter Fall Plant Sale
900 Sanford Road Santa Rosa
California Native Plant Society - Milo Baker Chapter holds an annual plant sale every fall. Amazing native plants at a great price.