Planting for the Future
Garden Features
7
Rainwater Harvesting System
8
Reclaimed/Recycled Materials
10
Smart Irrigation Controller
Garden Development
We purchased our property in Fall of 2021 and began an immediate garden overhaul.
Our prime motivations centered around doing our tiny part to address the biodiversity and climate crises. Our goal has been to transform the landscape into our personal produce aisle as well as providing food, water, and shelter for wildlife to thrive and raise young. We aimed to accomplish this without the use of pesticides and synthetic fertilizers, using smart and efficient irrigation and with a focus on native drought-tolerant plant/tree species. The first step was to use all our moving boxes to sheet mulch the front yard, which was taken over by invasive non-native weeds. Next, we removed diseased/stunted fruit trees and used the logs and chipped branches for mulch and garden borders. We improved permeability by removing concrete, unearthing discarded pavers and applying compost, mulch, and crushed stone. We established our vermiculture and traditional compost systems and imported additional compost to give our soil a much-needed boost. Finally, we hired the amazing Dan Dufficy at California Native Landscapes to design a pollinator-positive and biodiverse garden that could feed us as well as the local wildlife.
Garden Features
Over the past few years, we've added numerous native plant and tree species, including hosts to beneficial insects and food for pollinators, which deliver tremendous pest management and pollination benefits to our 12 fruit trees and variety of annual and perennial vegetable and berry plants and shrubs. Our front yard pathway and our backyard raised beds were designed and installed by CNL. They incorporated locally sourced materials and salvaged pavers. Our efforts to attract wildlife to our property have been hugely successful, and we document observations on the i-Naturalist app. We have Bewick's Wrens, Western Blue Birds, Eastern Gray Squirrels and bats, who are raising young in a collection of bird houses and a bat house. We also built a chicken coop and keep two beehives in the backyard. To further support biodiversity and positively influence neighbors, we certified our house as a monarch waystation and NWF wildlife habitat and joined the CA Native Plant Society, all of which is on display via front fence signage.
Water Use
For our CA native plantings, we strictly keep to watering deeply once per week in the summer and reduce in the cooler months for the first two years until established, with the goal of not having to apply any water to our CA natives once established. Some of our particularly drought tolerant species already do not receive any supplemental water. To strategically apply water during the rainy months, we installed two 205 gallon rain barrels and direct all rooftop stormwater to remain on the property. We took advantage of Marin Water's rebates for our Flume leak detection device and for the Rachio smart irrigation controller. Our raised veggie beds and the recently planted natives along our front pathway are watered via drip lines, otherwise we water by hose.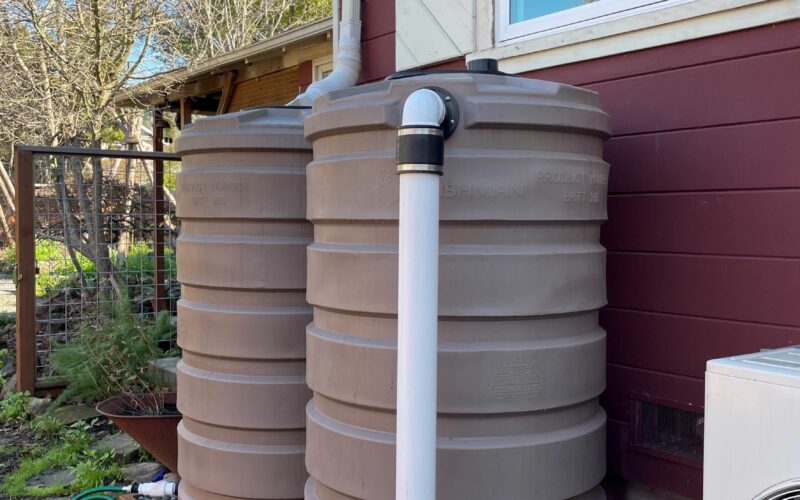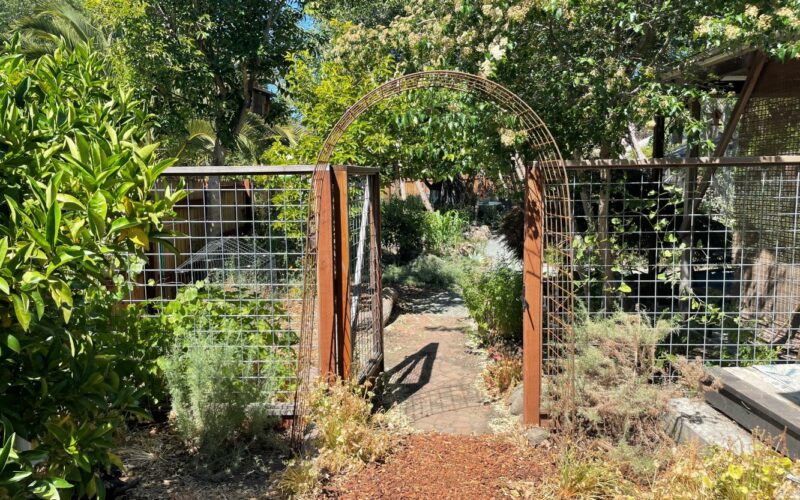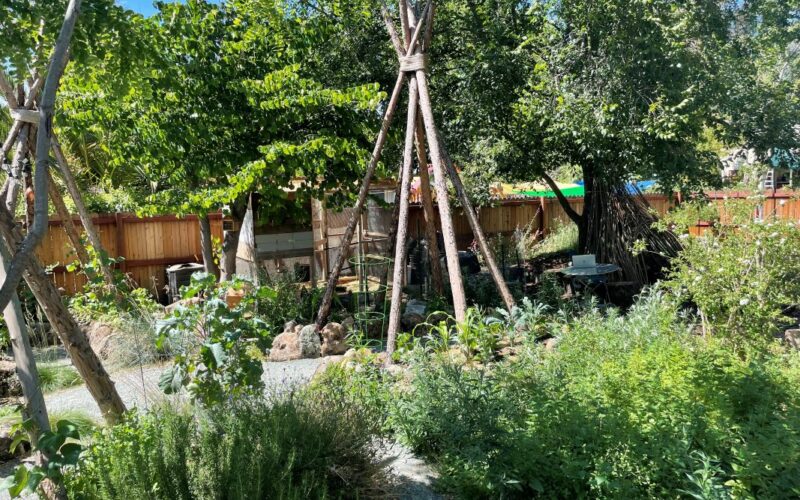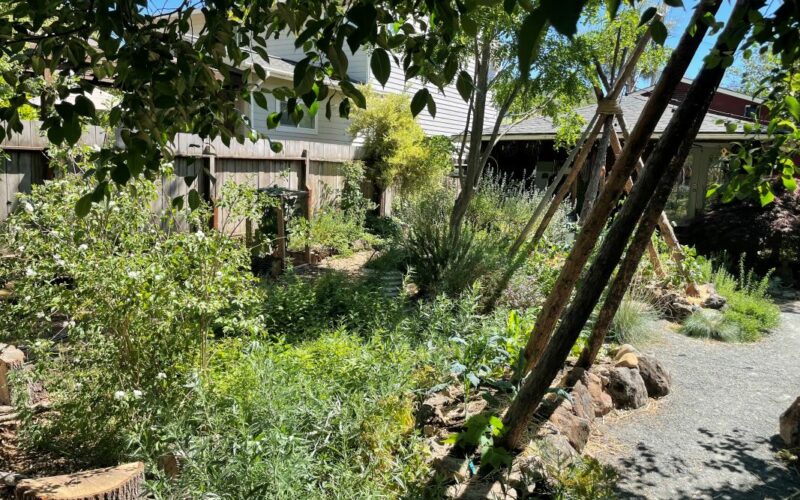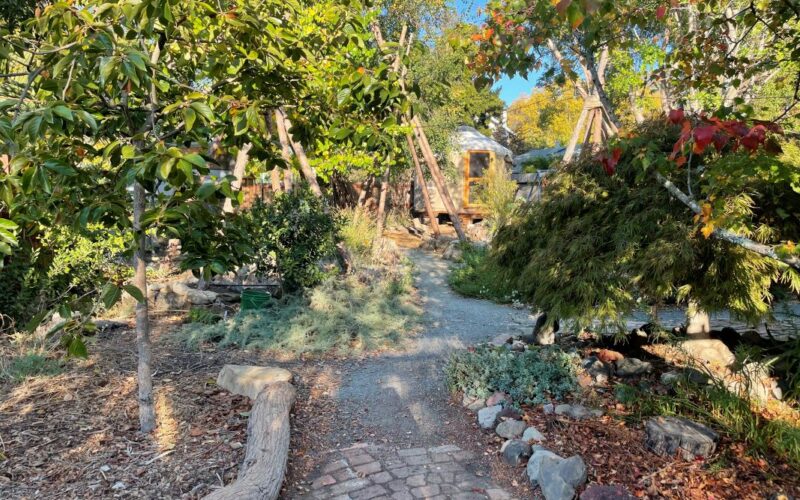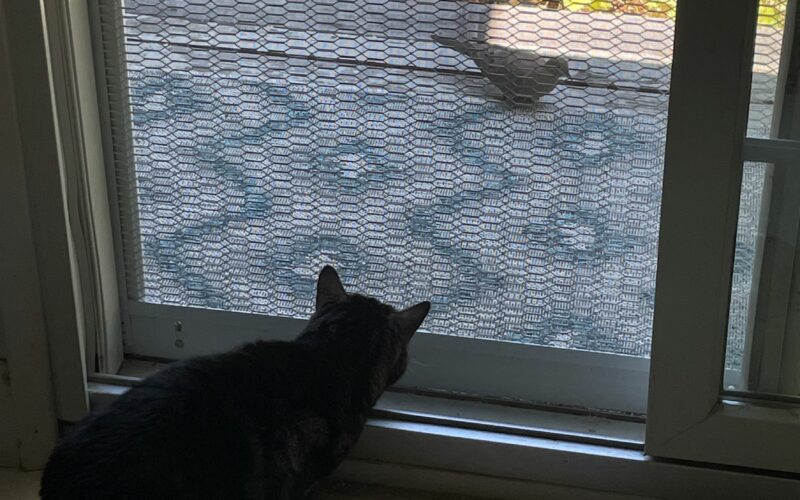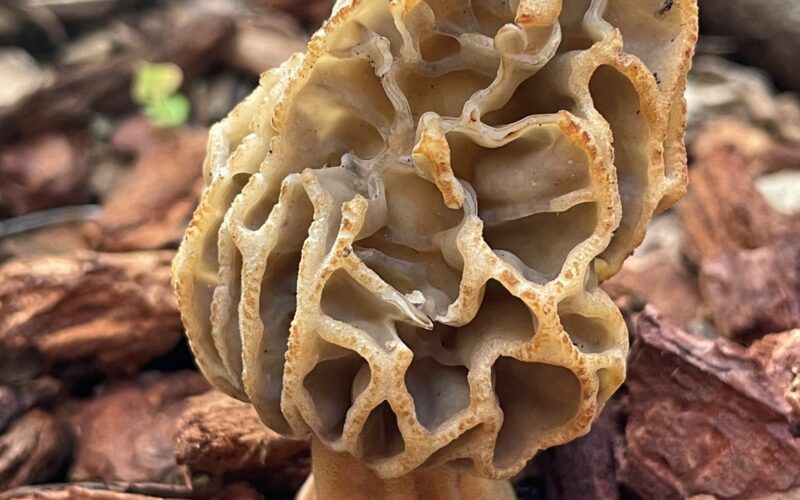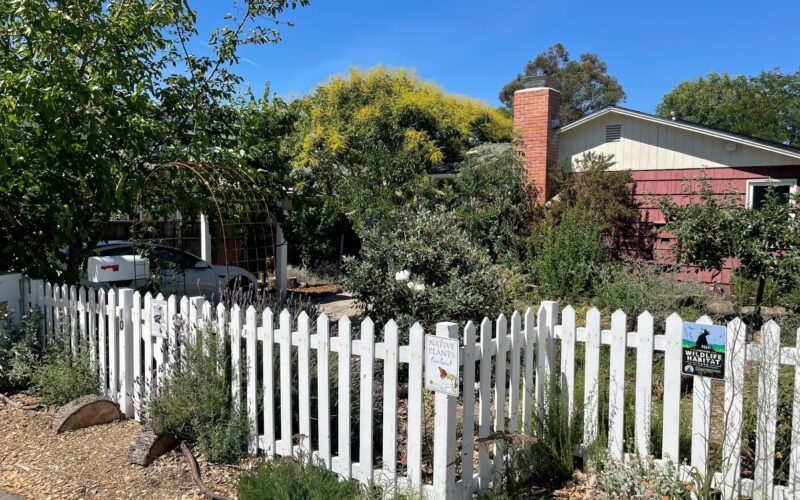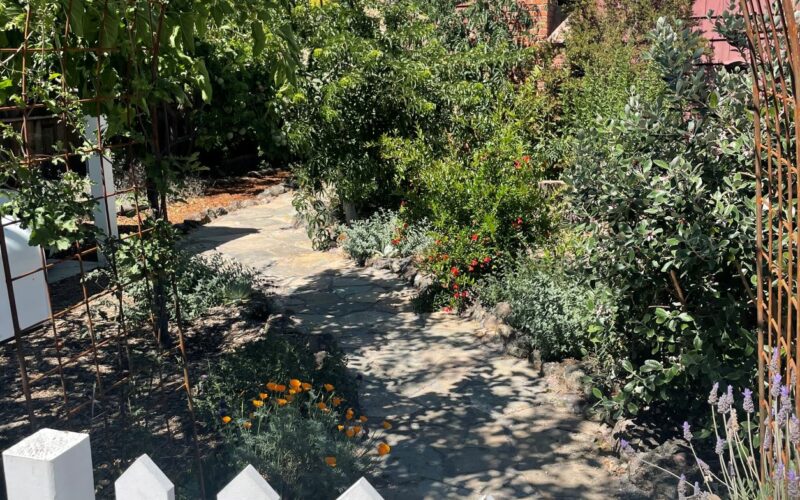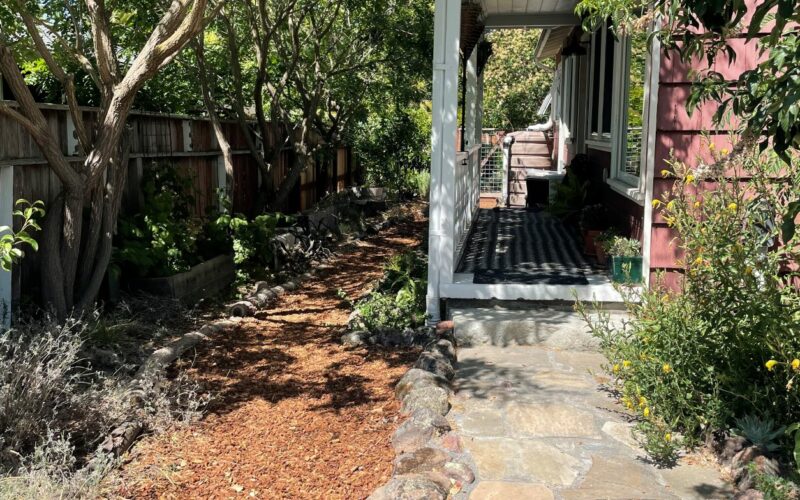 Plants in this Garden
Favorite Garden Suppliers
CNL Native Plant Nursery
254 Shoreline Highway Mill Valley
Oaktown Natives
254 Shoreline Highway Mill Valley
Recommended Resources
Golden Gate Gardening
Written by Pam Peirce
Cal Academy of Science's
For help identifying the living things in your garden and contributing to citizen science I recommend downloading Cal Academy of Science's app I-Naturalist.
Merlin Bird ID
For help identifying and tracking birds in your garden I recommend downloading the Merlin Bird ID and eBird apps.
Gardening Tips
1
Research indigenous peoples of your area.
I highly recommend researching the indigenous peoples of your local area to discover the numerous plants they used for food, medicine, clothing, tools and ceremony.