The Art of Lawn Replacement
Garden Features
5
Reclaimed/Recycled Materials
Eco-Friendly Garden Tour host and professional landscaper Teliha introduces her garden.
This quaint garden in Fairfax proves that good things really do come in small packages! An exceptional example of a turf replacement project, its balance of landscape and art is truly inspirational.
Creative Landscape Solutions
Mosaic Walkway
Reclaimed Materials
Drainage
Interested in taking advantage of the turf replacement rebate, the owner decided to transform the previous lawn into a beautiful spiraling pathway. Matching the theme of mosaics found throughout the garden, each recycled stone is individually decorated with unique clusters of patterned tile or recycled beads, and the pathway is set in sand to make it permeable.
Native Plants

Deer Proofing
Also replacing part of the lawn are native, low-water-use plants and a few veggie crops. Along the lower section of the garden is a creative solution to keeping unwanted visitors at bay: Swathed in vibrant Wisteria vines, a column and cable retaining wall keeps deer out without sacrificing the view!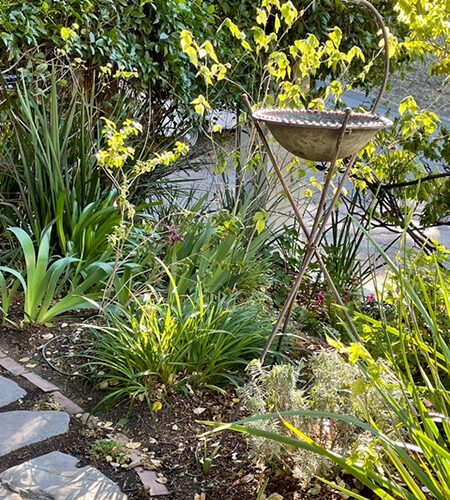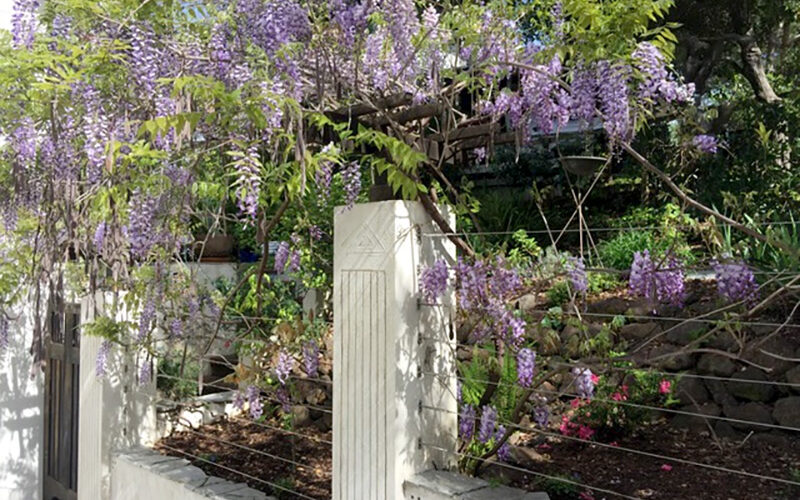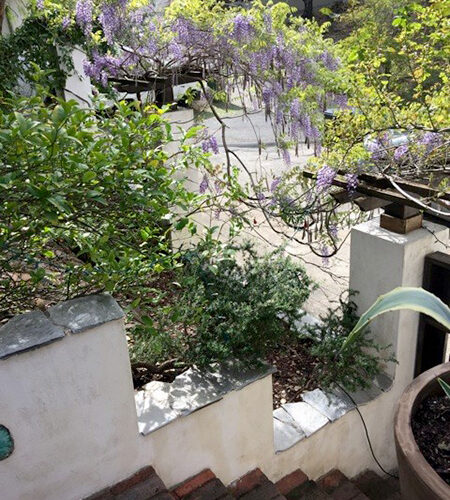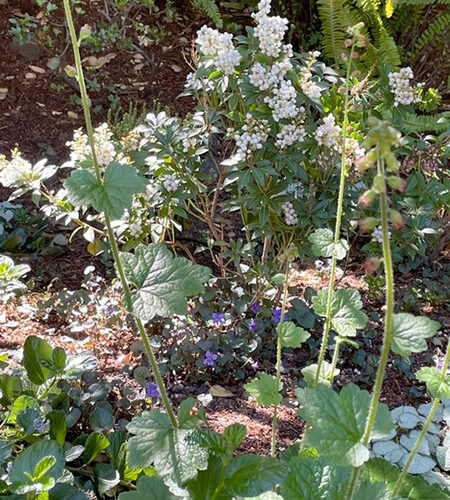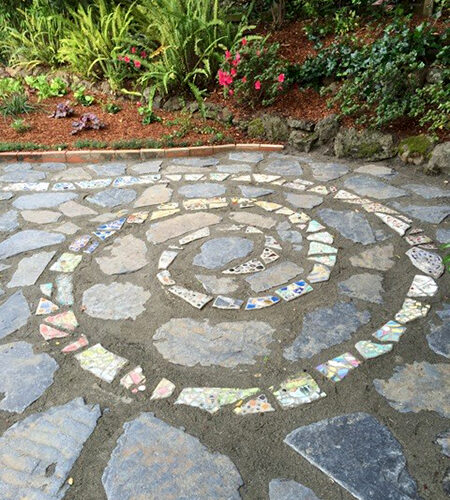 Plants in this Garden
Favorite Plants
1
Silk Tassel (Evie)- Garrya elliptica
2
Redbud - Cercis occidentalis
3
Wild Lilac (Carmel Creeper) - Ceanothus griseus horizontalis
4
Pacific Coast Iris - Iris douglasiana
5
Island Snapdragon (Pink Panther) - Galvezia speciosa
Recommended Resources
Image West Gardens
Watershed Landscape Design
Gardening Tips
1
Why I Love The Watershed Approach
Traditional grass lawns do not thrive in a shady, moist environment beneath oak trees. The lack of sunshine and poor drainage due to a clay-rich soil, produce an acidic condition, supportive mainly of crab grass and moss.
Instead of a lawn, imagine a new garden, which renews and refreshes your connection to the earth. Applying the principles of the watershed approach to landscaping, I created a water-permeable, mosaic spiral pathway and new garden beds planted with water efficient plants. It was a collaboration that balanced and transformed both the landscape and our lives.