Low Maintenance with Swale
Garden Features
7
Smart Irrigation Controller
We lost our home in the October 2017 fire. The original garden had a lawn, many trees, shrubs and had been landscaped in an oriental style by the previous owner. Nothing remained of the original garden, so this garden has all new features and planting (and is the same for everyone in the street – just one tree survived).
For the new garden, we wanted a lawn free. low maintenance and drought tolerant garden, but with some color. Something that would attract bees and birds. We also plant random herbs, and at the moment, we have oregano, thyme, sage, rosemary, and mint. We also have some lime, lemon, and mandarin citrus plants.
The garden we have is based on the Native/Adaptive template provided by the Sonoma-Marin Saving Water Partnership and was designed by a landscaper Holly Selvig and installed by Green Quality Landscape
Irrigation & Drainage
There is a drip irrigation system with four zones at the front to keep all the plants suitably watered.
The city and Sonoma Water are hosting landscape workshops and providing design templates and plant lists. At the workshops, landscape gardening professionals assisted homeowners in selecting and working through the templates (thank you to the City of Santa Rosa). The garden we have is based on the Native/Adaptive template.
The plot has a gradual slope and we thought adding a swale would add a feature that meanders with the plant layout. There is a chain drain at the front which visibly channels water from the roof. The garden has been in place for just over a year and it is nice to see the plants maturing, growing and flowering.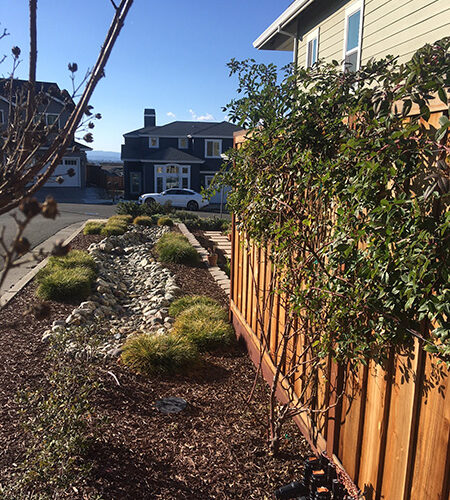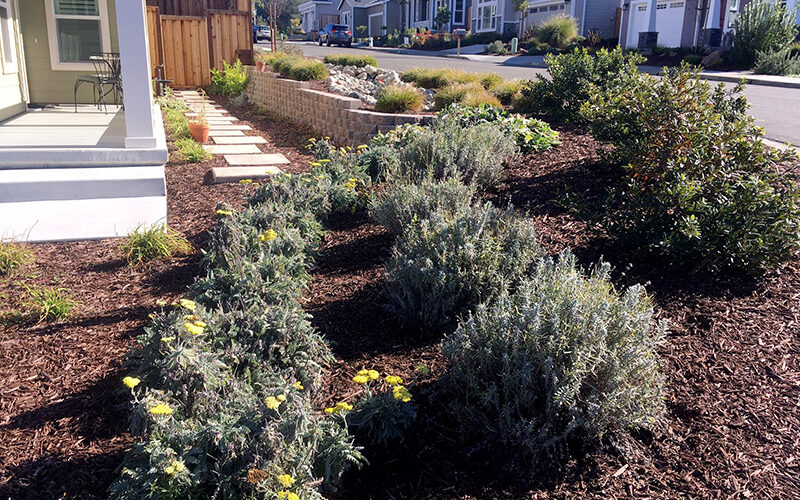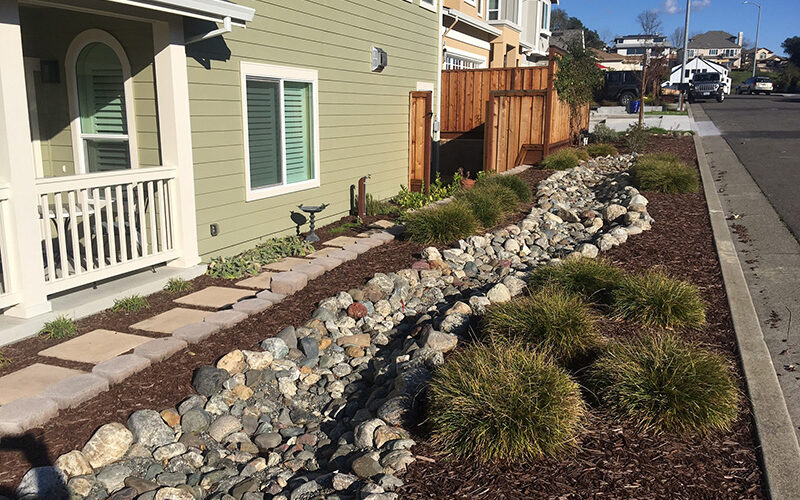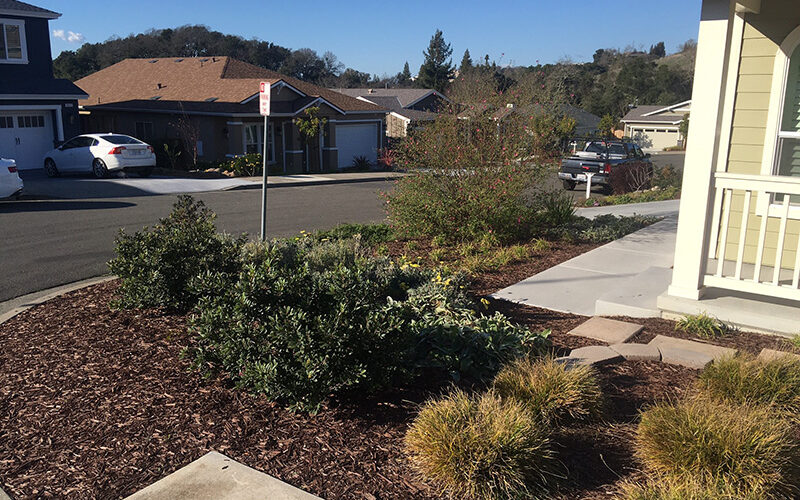 Plants in this Garden
Favorite Plants
1
Western Redbud - Cercis Occidentalis
2
Moonshine Yarrow - Achillea 'Moonshine'
3
Coffee Berr - Frangula Californica 'Mound San Bruno'
4
Fragaria 'Chaval' - Fragaria Chiloense 'Chaval'
5
Berkeley Sedge - Carex Tumulicola
Favorite Garden Suppliers
King's Nursery
1212 13th Street Santa Rosa
California Flora Nursery
2990 Somers Street Fulton
Gardening Tips
1
Herb Gardens Are Amazing
We wanted somewhere to plant and try various herbs. Going into the garden and cutting fresh herbs makes food and cooking a bit more personal.