Oaks and Sages
Garden Features
7
Reclaimed/Recycled Materials
Partner:
North Marin Water District
A Master Gardeners Own Native Garden.
I'm learning what works. This year, fire and water considerations have altered everything I do. I've long known—theoretically–how to plan for water shortages and fire threats, but now I'm seeing how things work over time, with my own eyes, in my own garden.
Therefore, I plant in the fall, not the spring. I plant native plants – most have had the advantage of adapting to California's droughts over centuries. I plant less densely now and leave good spacing. I let it all breathe.
I don't plant next to the house. Instead, I have a broad swathe of river pebbles surrounding the house and I keep it weeded, which isn't hard to do, but does take regular maintenance.
Some native plants will thrive here, and some will not, no matter how thoughtfully I take care of them. It isn't their place. I've learned not to fight the microclimates in my garden.
I enhance whatever I can. The soil always needs enrichment; the woodchips and leaves of my neighbors' oak trees make beautiful soil, sometimes in a matter of months. I'm always alert to tree work in the neighborhood, and I take whatever free materials I can get. When I first sheet-mulched three seasons ago, the soil was compacted and barely alive. Now a spade goes into it without effort, and my plants thrive. Whatever rain we get stays to soak into the ground and soften it further.
At least three types of small oaks grow in my yard. All have been planted by scrub jays that pilfer acorns from nearby trees. I sometimes catch them at it, but mostly not. Douglas Tallamy's new book, The Nature of Oaks, tells me that an acorn spends its first year putting growth underground in the form of roots. I find eight-inch tall oaks in the yard and know that the roots are spreading far already. Quandary – do I let these potential giants grow where the jays planted them? Wouldn't it be great to have an oak grove here? I'll never see it, of course, but wouldn't it be wonderful?
Last summer I was pleasantly surprised to see black olives developing on the old olive tree next to my driveway. The tree is one of several survivors of an olive orchard from at least 100 years ago.  I recently found a remarkable photograph from 1895 that showed fruit trees growing in rows, and not far off, a boat sailing up Novato Creek to pick up Novato's produce and take it back to San Francisco.  My entire neighborhood was once a working fruit orchard.  Before that, oak grassland.  The olives this fall were fat and dark and beautiful.  Unfortunately, I was ill when they needed harvesting and processing.  
This winter provided the first real test of the rain garden I installed in 2019. It performed beautifully, filling with each storm and gradually sinking the rainwater back into the ground. So this February I extended the swale another six feet, following a slight curve around the lemonade bush, the rushes, and the ceanothus. A flock of little birds is out there now, busily digging around for mulch goodies.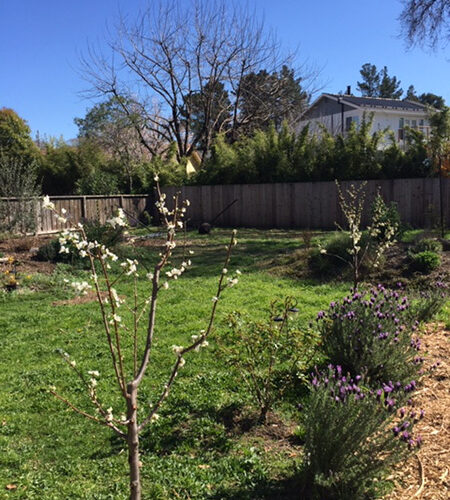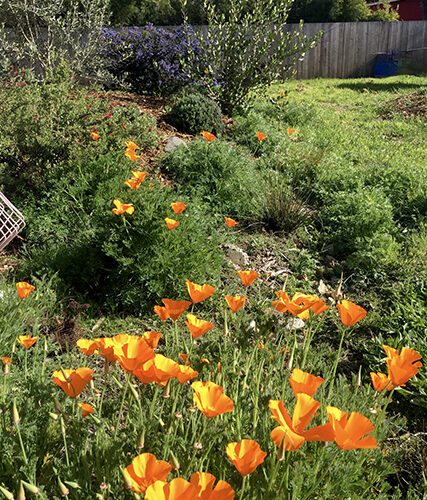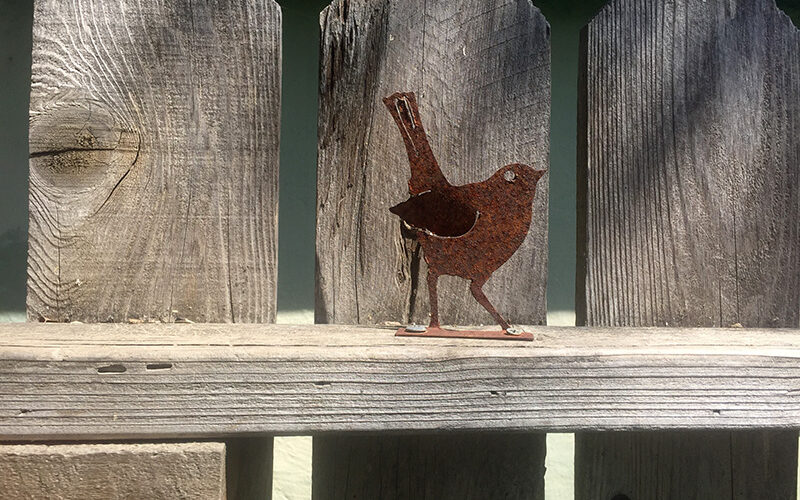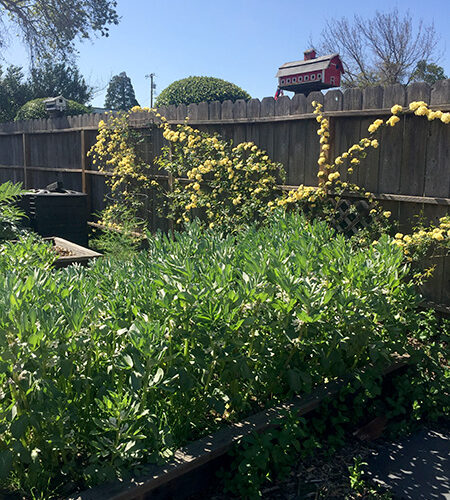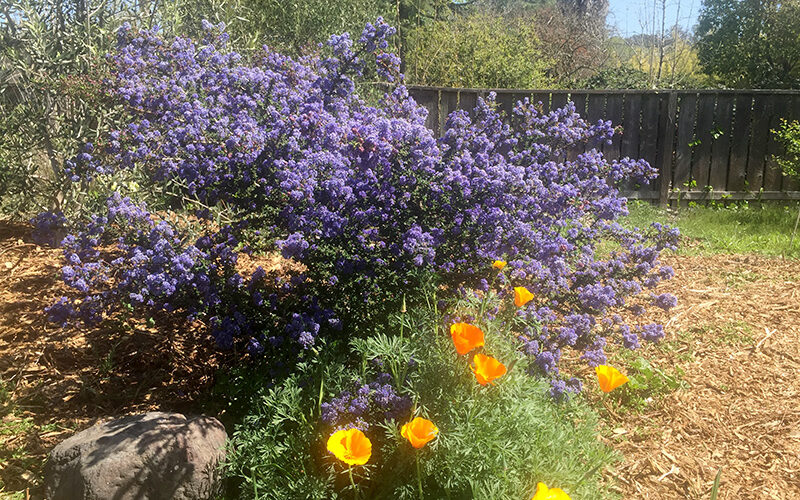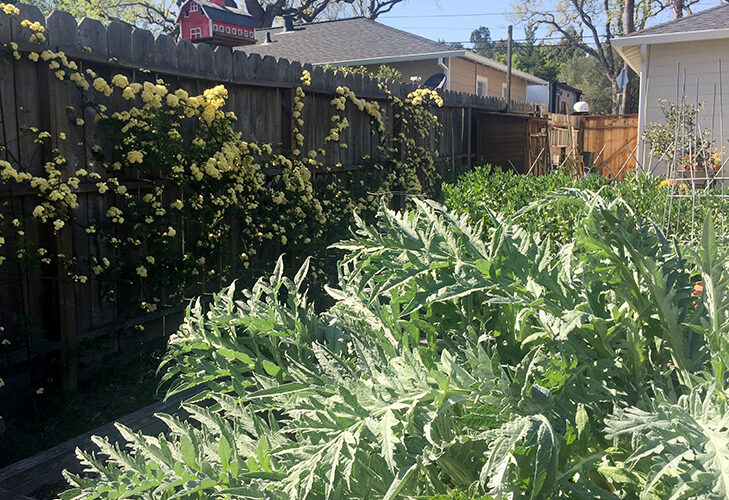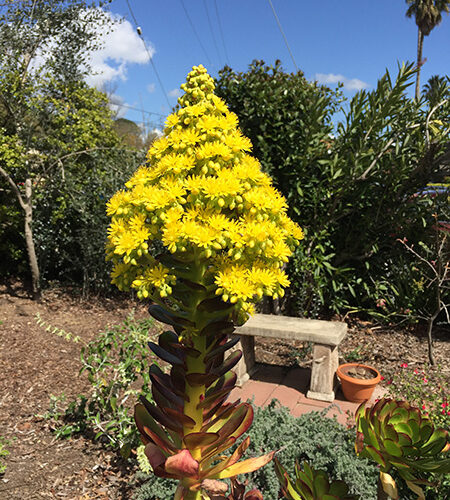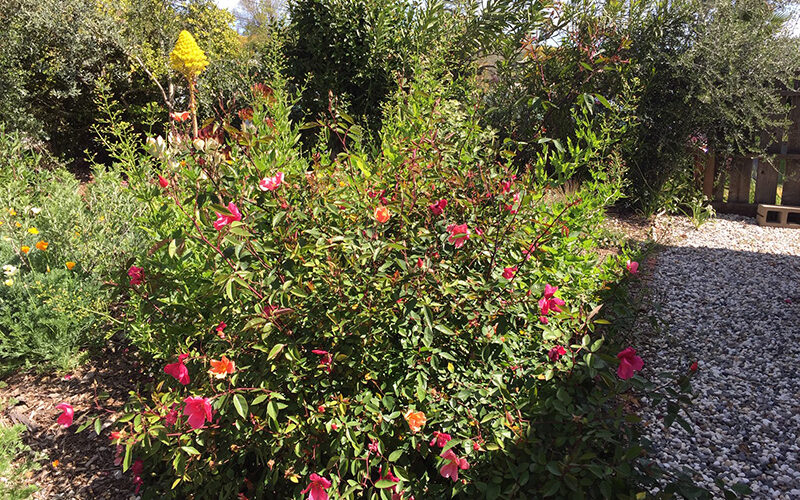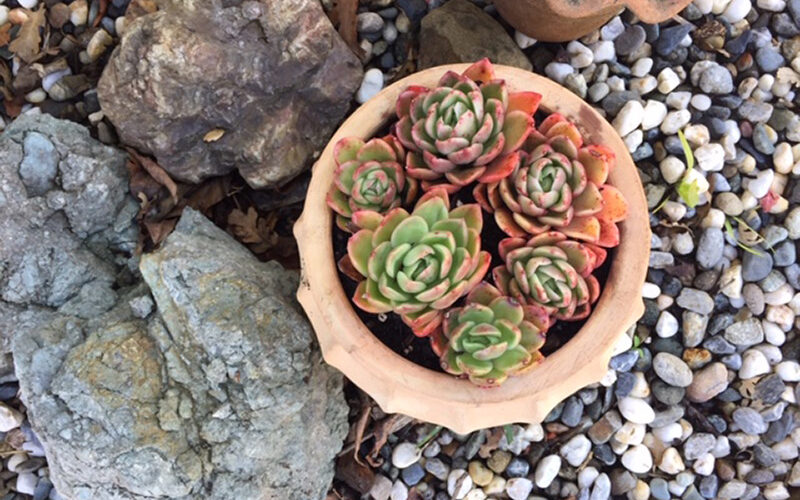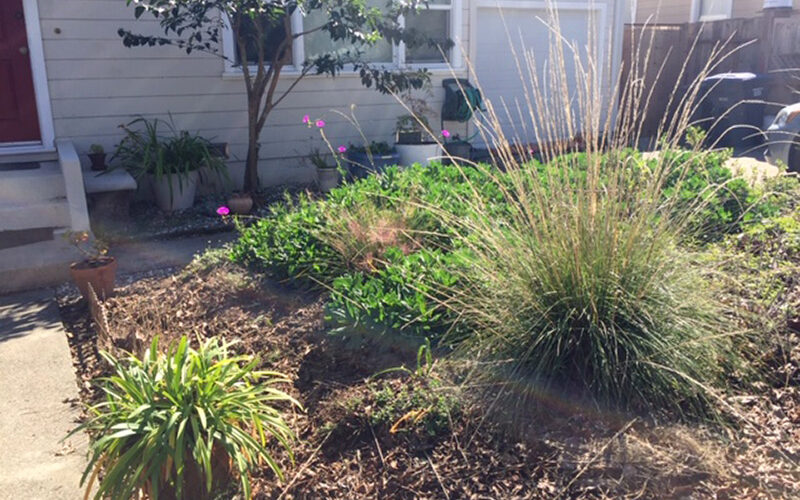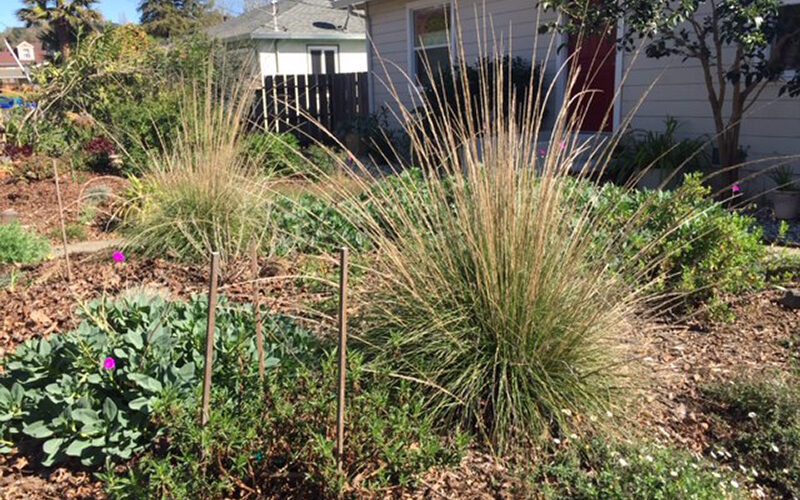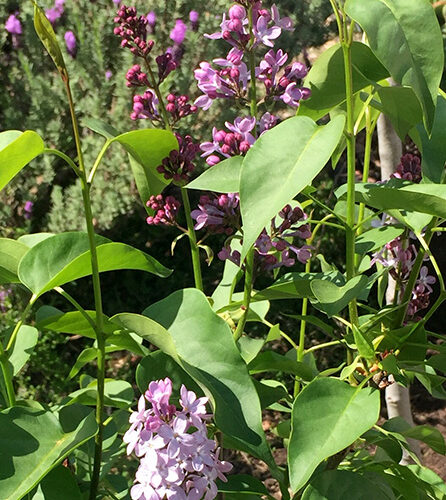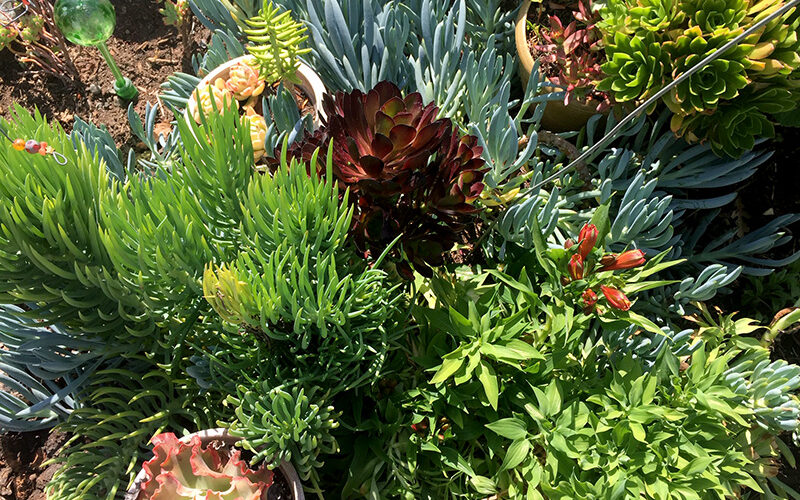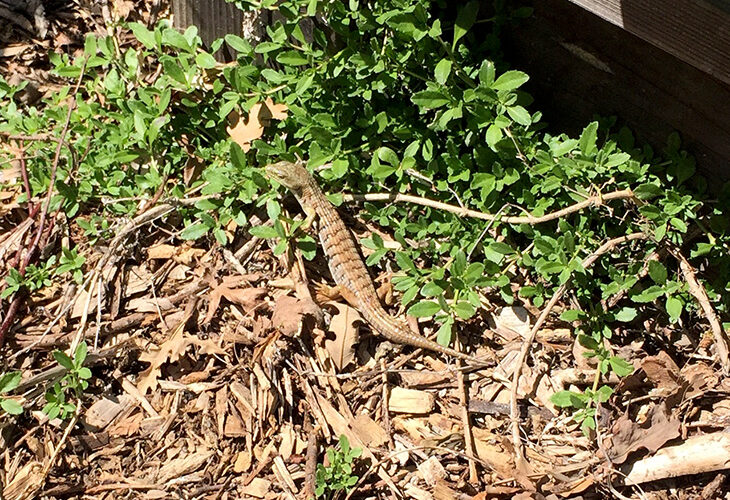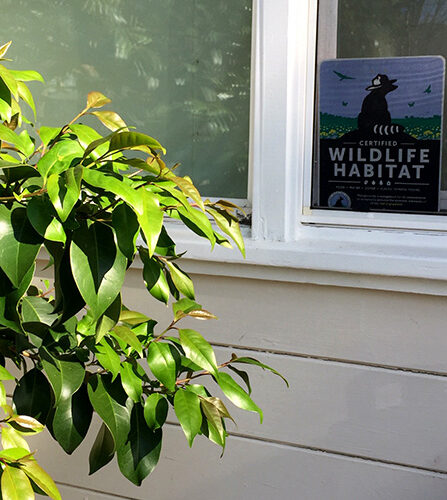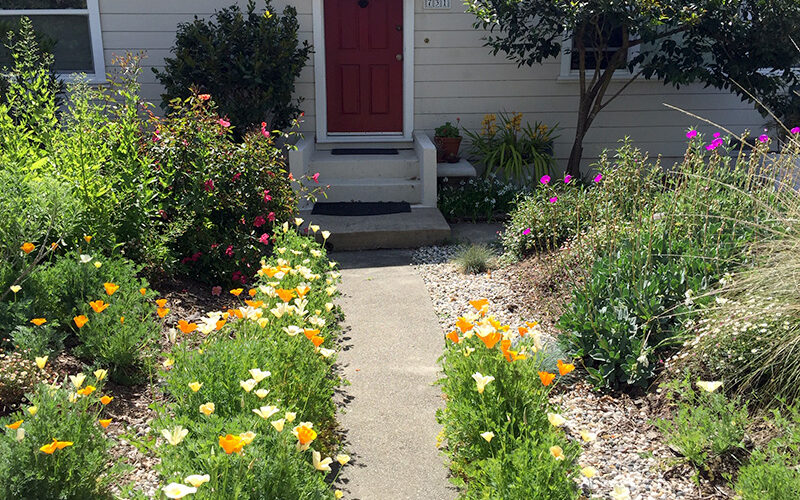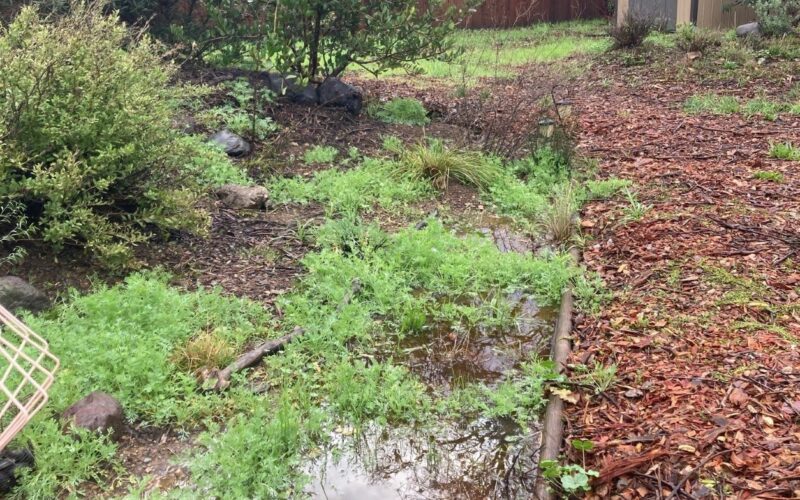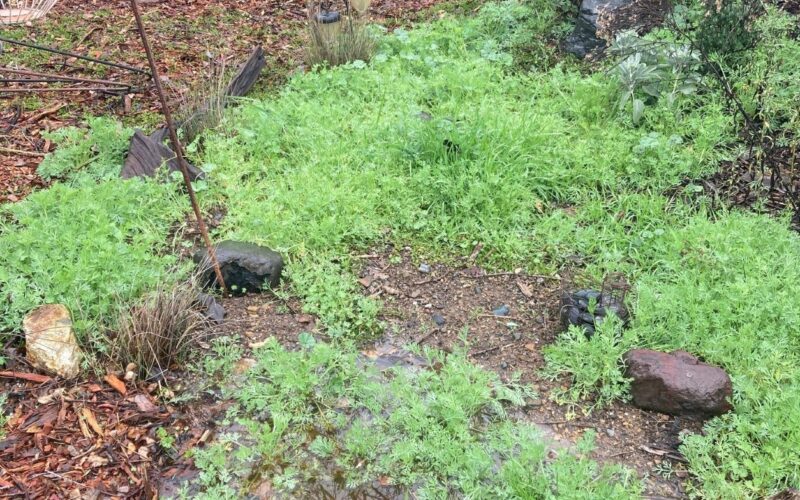 Plants in this Garden
Favorite Plants
2
Rhus integrifolia (lemonade berry)
3
Salvia apiana (white sage)
4
Salvia clevelandii (several cultivars, including Allen Chickering)
5
Scrophularia californica (bee plant) tolerates clay soil, attracts pollinators
Favorite Garden Suppliers
Recommended Resources
Nature's Best Hope
By, Douglas W. Tallamy. Published February 4, 2020. This book is a fine guide to a homegrown habitat.
The Nature of Oaks: The Rich Ecology of Our Most Essential Native Trees
By, Douglas W. Tallamy. Published March 30, 2021.
Designing California Native Gardens
Written by Glenn Keator and Alrie Middlebrook
Gardening Tips
1
Birds Love Native Plants
California native plants, wherever you can put them!  If you love birds, these are the plants that will encourage, nurture, and shelter them.
2
Start with your soil!
which will probably need some help. Contact your local Master Gardeners for ideas on how to improve it.
3
Visit other gardens for inspiration.
Every year I find great inspiration from visiting other people's gardens – seeing what works and what hasn't, talking to the gardeners who are actively creating their beautiful gardens. With the climate changing as rapidly as it is now, we need all the information we can find.