San Anselmo Hillside Sanctuary
A low-water garden, irrigated with drip irrigation with several succulents, CA natives, South African and Australian plants. The upper most patio with a curved seat wall looks out to one of the majestic live oaks and beyond into the distant hillside.
This vast hillside landscape in San Anselmo, Northern California, with dramatic hillside views, has evolved over the years and is the personal sanctuary of Landscape Designer Eileen Kelly, owner of Dig Your Garden Landscape Design. This sustainable garden also serves as Eileen's "living laboratory" where she observes and learns from the habits and growth of her extensive selection of plants. They include hundreds of varieties of low-water, low maintenance and pollinator plants. Some appropriately nestled below the majestic oak trees, others that thrive in the sunny spots and others in shade. The plant palette ranges from California natives to plants from other Mediterranean regions such as South Africa and Australia, as well as an extensive variety of succulents and a few exotics from Hawaii and other regions. ​ Several patios and sitting areas have been incorporated to enjoy the natural setting and the lovely views.
Design Elements
Stairways, pathways and patio areas throughout the landscape offer places to pause or linger to take in the natural surroundings and views both up close and in the distance.
Diverse plant varieties, including CA natives, succulents and plants from other Mediterranean regions offer an abundance of pollinator plants, biodiversity and ecosystem for the birds, the bees and the butterflies. Fire-wise plants and gravel mulch installed in areas closest to the home.​
Retaining walls constructed with Sonoma fieldstone, patios, decking and a variety of seating areas with bluestone and other natural materials.
​Decomposed granite (DG) and flagstone incorporated in the pathways and patio areas.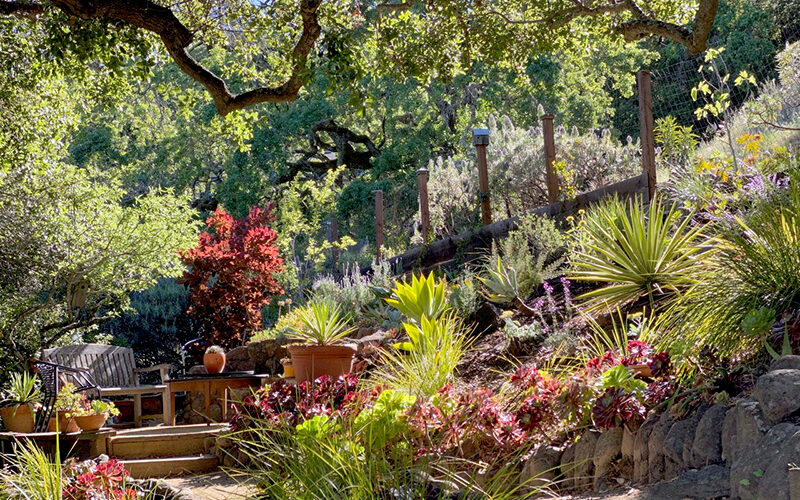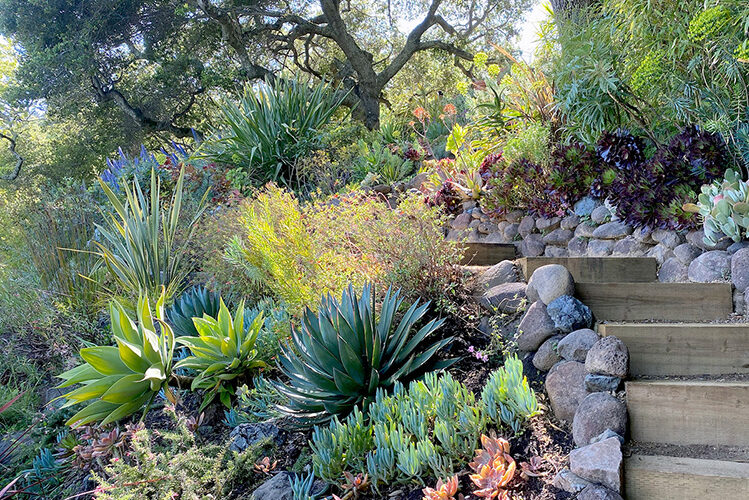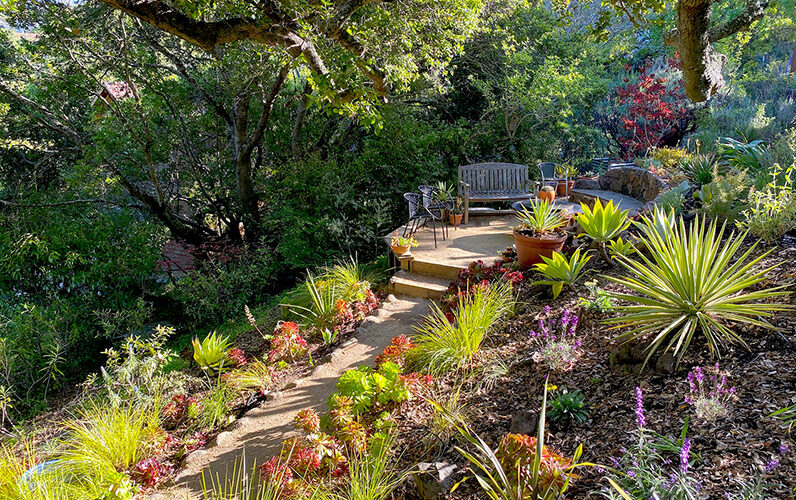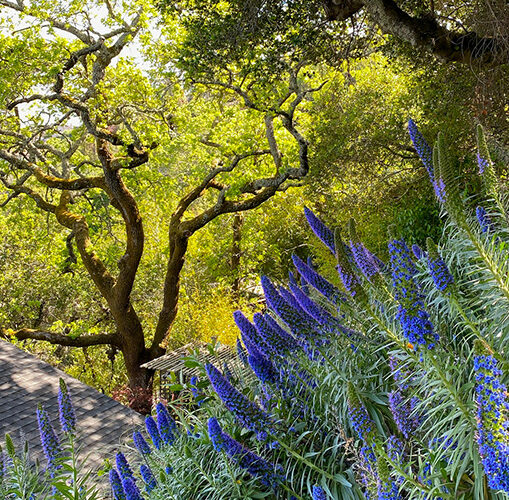 Plants in this Garden
More About Favorite Plants:
Cuphea vermillionaire – Large Firecracker Plant (tough, low water, a hummingbird magnet)
Agave 'Blue Glow' – Blue Glow Agave (shown with other succulents)
Lomandra 'Breeze' – Dwarf Mat Rush (grass-like plant)
Ceanothus 'Ray Hardman' – California Lilac 'Ray Hartman'
Grevillea lanigera 'Mount Tamboritha – Wooly Grevillea
Recommended Resources
Dig Your Garden Landscape Design
Designing landscapes since 2005.
Gardening Tips
1
Learn About Plant Growth Habits, Site Needs And Spacing Before Planting.
Use site-appropriate plants that include CA Natives and those from other Mediterranean regions, similar to ours, that include plants from South Africa and Australia to provide a year-round abundance of pollinator plants that support the birds, bees and butterflies.
2
Don't Forget To Add A Water Source To Your Landscaping For The Birds, Bees And Butterflies!
For plants, use an efficient drip irrigation system to save water and I highly recommend using qualified/licensed landscape contractors and others for proper installation.  Mulch plants to conserve water further.
3
Be Fire-Minded.
Select plants that are less flammable close to your home. Succulents are a great choice.  Several years ago I planted one Aeonium succulent cutting and over the years they have multiplied through easy propagation, and I now have hundreds. These succulents thrive without much water in the summer and prefer a partly sunny area, and also thrive well in shade. Great under the canopy of oaks.