Graywater and Natives
Garden Features
5
Rainwater Harvesting System
The Transformation.
We bought this place in 2015, and sheet mulched a section of the back and side yards. In 2016, the lawn and weeds in those sections were gone and we began planting. Portions of the yard flood in the winter, but go completely dry the rest of the year. So we try to find plants that can handle both wet feet and extended drought – a tough call. Some plants die, some grow, and some spread wildly and duke it out with their neighbors.
About the Garden:
California Natives
All our plantings are California natives and we try for locally natives. We haven't yet taken out all the non-natives that were planted previously. We'd like to recreate as much of a natural area as possible, to entice native insects, birds, and even on occasions racoons, fox, and yes, deer.
Soil & Irrigation
With an established and well mulched garden, hand watering is needed only a few times in the summer and fall. Because new plants need plenty of water when they are first setting root, our planting is done in the rainy season (when we have one).
Rainwater Capture and Graywater
We've collected rainwater in barrels here from the beginning, and toted water to needy plants throughout the summer and fall. But this has become more demanding as the plantings and dry season expanded. Conceding that our rain dances have failed, we began installation of a graywater system. The laundry-to-landscape system was completed in the winter of 21/22. The bathroom sink and shower components will follow when Permit Sonoma allows.
More About Russian River Friendly Landscaping
Create and Protect Wildlife Habitat
Plant and animal diversity is one of the many factors that makes the Russian River Watershed unique and beautiful. More than 1,400 native plant species bloom throughout the year, supporting hundreds of native pollinators, beneficial insects and other organisms that can reduce the need for pesticides. Birds and butterflies are attracted, bringing with them beauty, song and interest to a landscape.
Biodiversity is crucial to the health and resiliency of the local landscape, the Russian River ecosystem and its inhabitants. Yet the loss of habitat is threatening local biodiversity. The population of the Russian River Watershed is growing and expected to continue to do so. With increased populations comes development, which must be done with regard for wildlife habitat.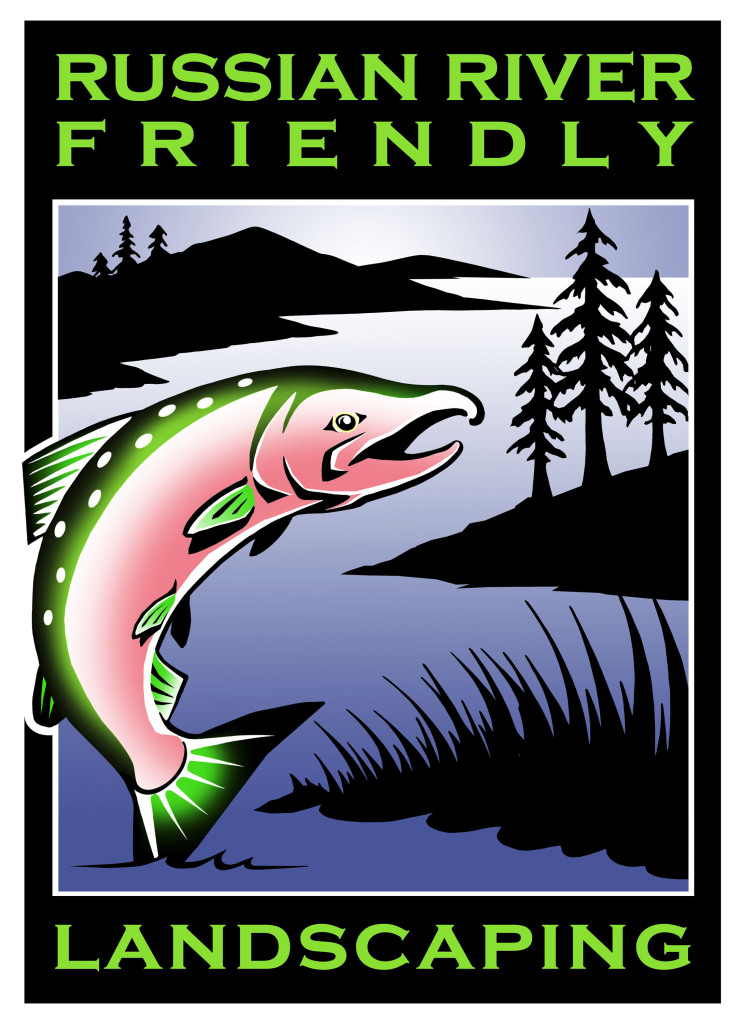 And although we tend to rely on parks and open space for preserving wildlife habitat, both residential and commercial landscapes can also play an important role. Developed landscapes can provide food, water, shelter and nesting sites for birds, butterflies, beneficial insects and other creatures, thus helping to conserve valuable wildlife resources and restore damaged ecosystems. Small spaces or corridors, patched together over the entire Russian River Watershed, add up to a great opportunity for encouraging and protecting wildlife.
Diversify
Choose California natives first
Provide water and shelter
Use organic pest management
Conserve or restore natural areas and wildlife corridors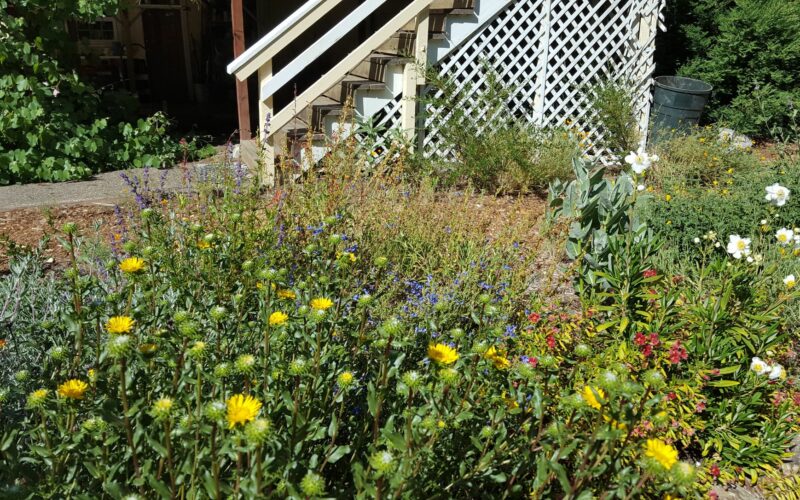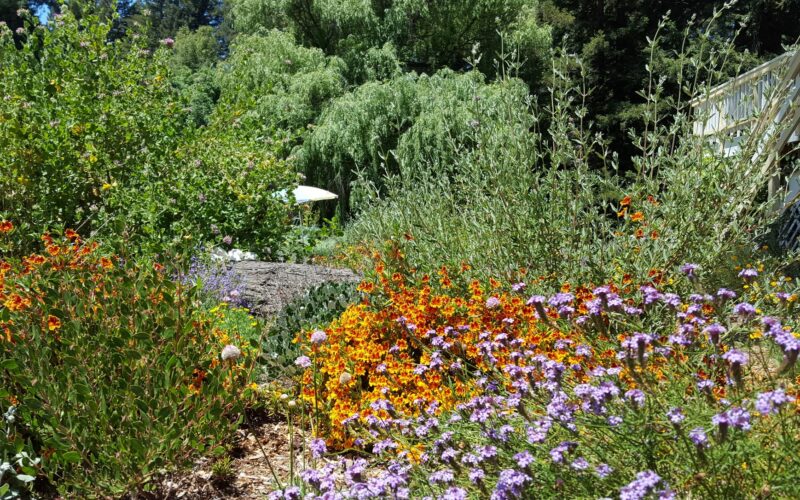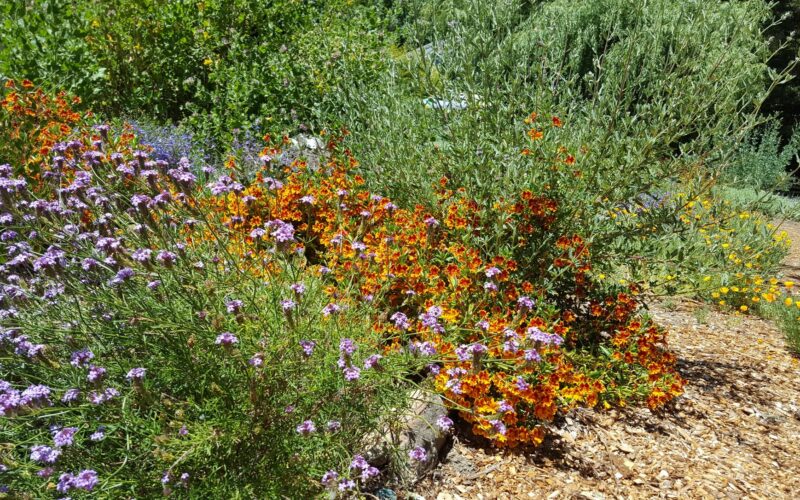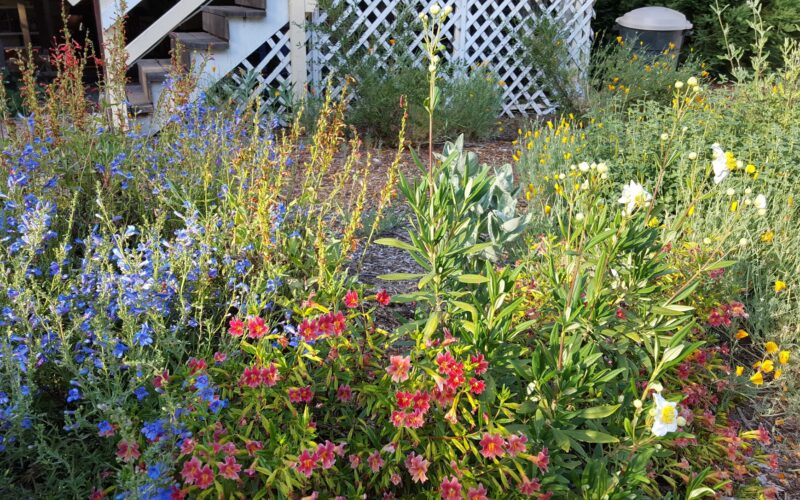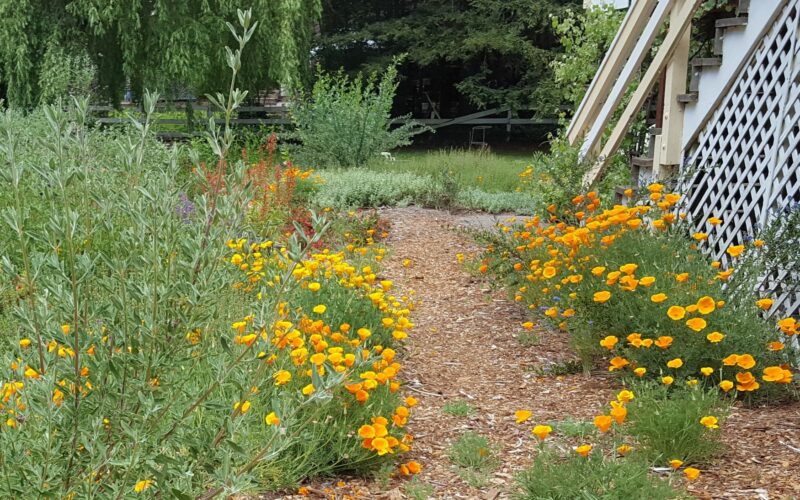 Plants in this Garden
California poppy – Eschscholzia californica (they spread their joyful splashes of color where many things fail, come back and spread)
'Liz's Choice' California Fuschia – Epilobium canum 'Liz's Choice' (bloom when most are gone, spread prolifically, and hummingbirds love them)
Bunchleaf Penstemon – Penstemon heterophylus – Margarita BOP (loved by insects, spreads to become a mass of purple flowers)
'Allen Chickering' Sage – Salvia clevelandii 'Allen Chickering' (they're SO fragrant, hummingbirds love the flowers, and many birds love the seeds and the cover they provide year-round)
Woodland strawberry – Fragaria vesca 'Montana de Oro'  (prolific, easy ground cover in the most difficult areas – arid or wet, under oaks in nearly complete shade, sweet little berries)
Pink-flowering Currant – Ribes sanguineum 'Claremont' (they start the flowering season and feed hummingbirds and insects when almost nothing else is blooming, they grow in difficult areas, under oaks and doug firs and in shade; need some summer/fall water)
Favorite Garden Suppliers
Harmony Farm Supply
3244 Gravenstein Highway North Sebastopol
Recommended Resources
California Native Plants for the Garden by Carol Bornstein, David Fross and Bart O'Brien
Somehow so comprehensive (>500 plants) and yet so easy and quick to use! Beautiful and useful photos (showing setting as well as close-ups of flora), simply indexed with summaries of type, zone, light, soil, water and habitat.