`
Zero Waste Water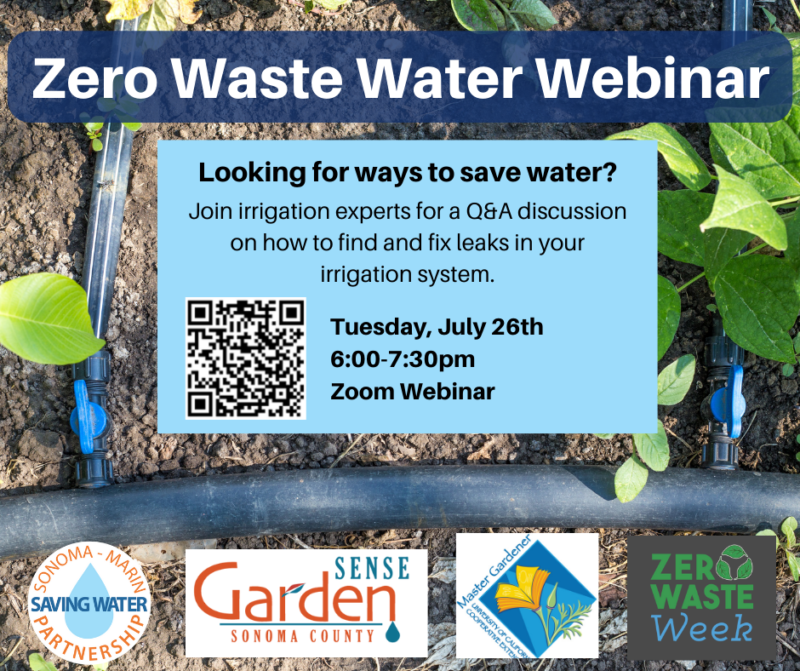 Jul. 26, 2022 | 6:00 pm - 7:30 pm
Webinar
Sonoma-Marin Saving Water Partnership + Sonoma County UC Master Gardeners
Learn how to eliminate water waste from your yard by fixing and finding irrigation leaks!
Our panelists include irrigation experts, Kris Loomis, Senior Programs Specialist, Sonoma Water and Leslie Hart Volunteer Coordinator of Garden Sense, a UC Master Gardener Program of Sonoma County.
Join this Q&A webinar and share what issues are you experiencing with your irrigation system. Kris and Leslie will offer support and advice for how to address the most common causes of irrigation leaks and how to fix them. We are giving away a FREE drip irrigation repair kit, must be present to win! Be sure to join us live!
Add to Calendar
Jul. 26, 2022 6:00 pm
Jul. 26, 2022 7:30 pm
Zero Waste Water
Learn how to eliminate water waste from your yard by fixing and finding irrigation leaks! Our panelists include irrigation experts, Kris Loomis, Senior Programs Specialist, Sonoma Water and Leslie Hart Volunteer Coordinator of Garden Sense, a UC Master Gardener Program of Sonoma County. Join this Q&A webinar and share what issues are you experiencing with your irrigation system. Kris and Leslie will offer support and advice for how to address the most common causes of irrigation leaks and how to fix them. We are giving away a FREE drip irrigation repair kit, must be present to win! Be sure to…
Webinar
register