`
Healdsburg Rainwater Catchment Installation Event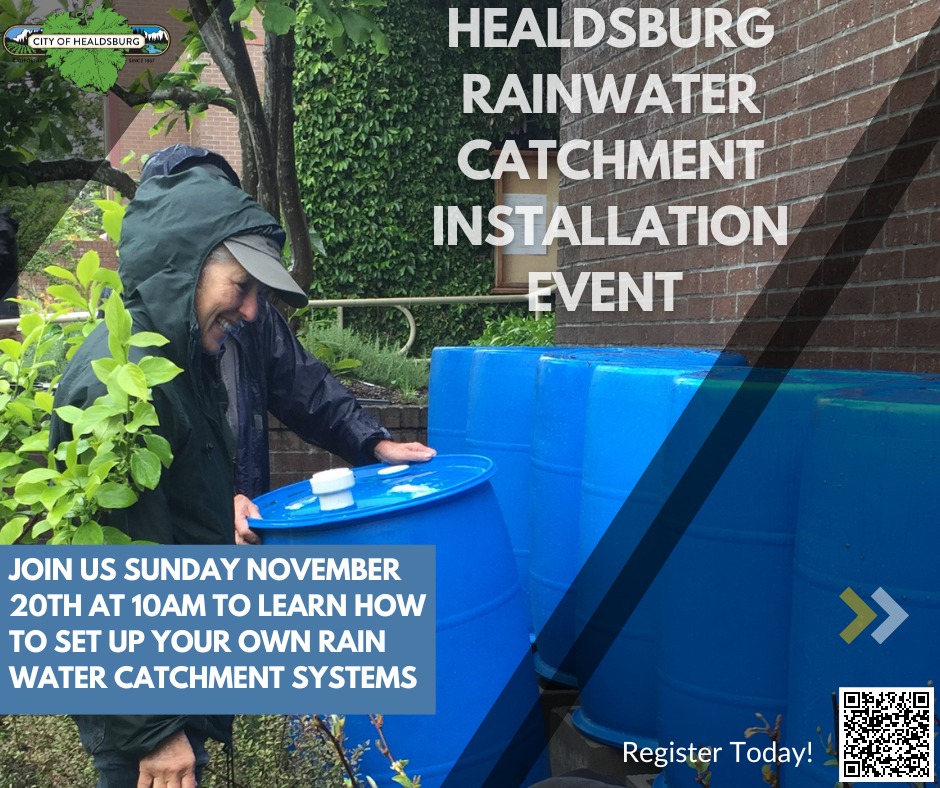 Nov. 20, 2022 | 10:00 am - 1:00 pm
Healdsburg, CA
City of Healdsburg + Daily Acts
We need your help to install a rain water catchment system!
Are you interested in learning how to set up your own rain water catchment systems? Did you know that there are rebates for installing your own system that can help offset costs? Join Daily Acts and the City of Healdsburg* for this hands-on installation event to learn how you can install a system of your own.
This event will demonstrate, provide information, and teach the skills needed to install your own rainwater catchment system using 275 gallon IBC totes (square totes). The water captured can help irrigate your landscape all year round while reducing your water bill.
This is a great opportunity to learn about rainwater catchment and other water conservation techniques, to help out your neighbors, build community, and get inspired! We hope to see you there!
During this workshop, you'll walk away with an understanding of how:
Installing a rainwater harvesting system saves water and benefits the environment
You can install IBC totes to capture rainwater at your own home
Healdsburg water customers can offset project costs through the Rainwater Harvesting rebate
*The specific location will be emailed to registered participants prior to the event.
Add to Calendar
Nov. 20, 2022 10:00 am
Nov. 20, 2022 1:00 pm
Healdsburg Rainwater Catchment Installation Event
We need your help to install a rain water catchment system! Are you interested in learning how to set up your own rain water catchment systems? Did you know that there are rebates for installing your own system that can help offset costs? Join Daily Acts and the City of Healdsburg* for this hands-on installation event to learn how you can install a system of your own. This event will demonstrate, provide information, and teach the skills needed to install your own rainwater catchment system using 275 gallon IBC totes (square totes). The water captured can help irrigate your landscape…
Healdsburg, CA
register