`
Drought Drop By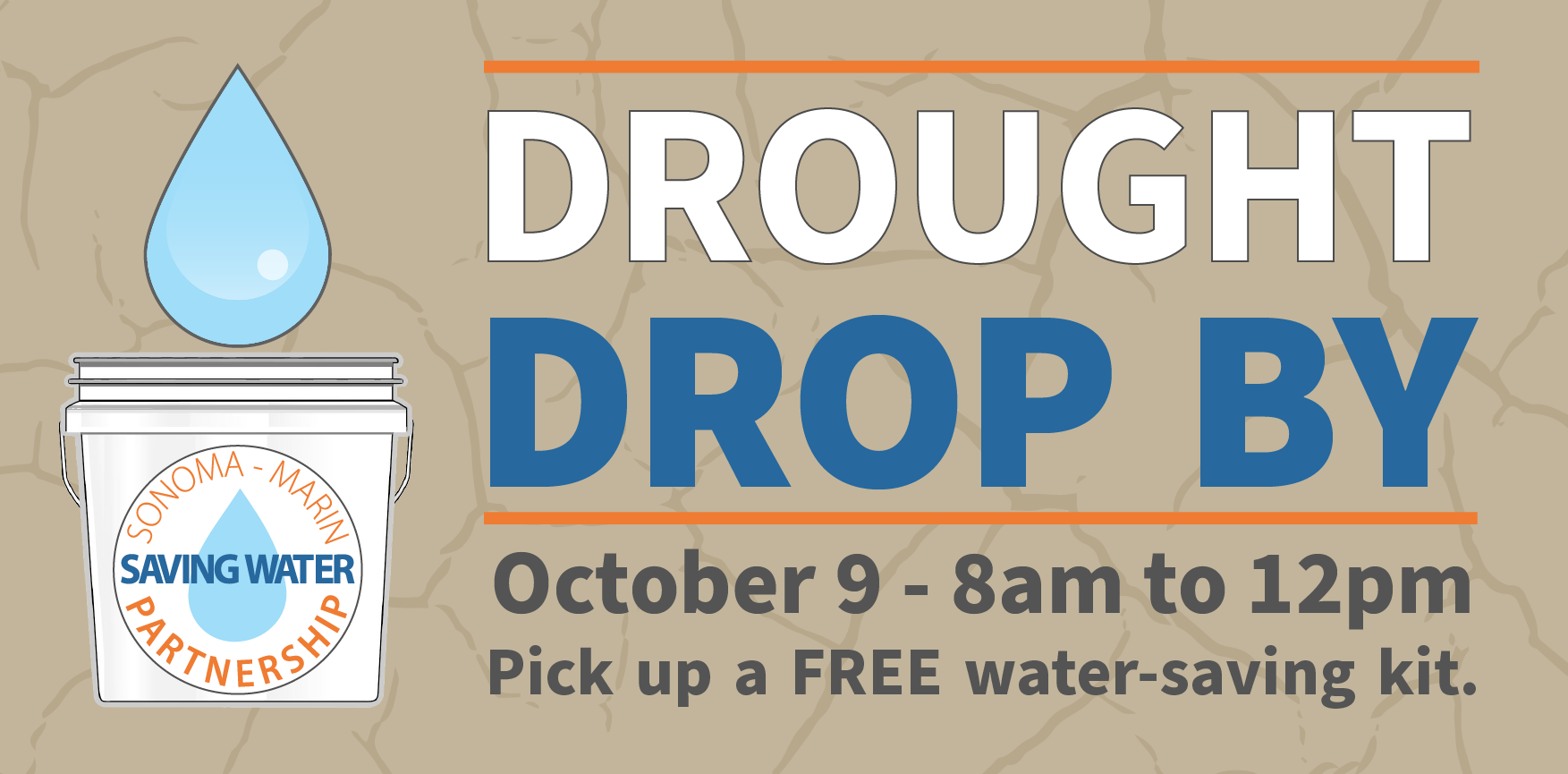 Oct. 09, 2021 | 8:00 am - 12:00 pm
Novato, Santa Rosa, Sonoma, El Verano
City of Santa Rosa, City of Sonoma, North Marin Water District, Valley of the Moon Water District
Drop by your water provider's location on Saturday, October 9, 2021 to pick up a FREE water-saving kit.
The free water-saving kit includes:
1-gallon bucket to catch water for reuse
WaterSense Labeled low-flow showerhead
WaterSense Labeled low-flow faucet aerator
5-minute shower timer
Garden hose nozzle with self-closing valve
Toilet leak detection dye tablets
Water saving tips and information
Locations:
El Verano – Valley of the Moon Water District Corporation Yard – 19039 Bay St, Sonoma, CA 95476
Novato – North Marin Water District Office – 999 Rush Creek Pl, Novato, CA 94945
Santa Rosa – Youth Community Park – 1701 Fulton Rd, Santa Rosa, CA 95403
Santa Rosa – Colgan Creek Park – 2036 Bedford St, Santa Rosa, CA 95404
Sonoma – Sonoma Valley High School (Bus Turnout) – 20000 Broadway, Sonoma CA 95476
Limit one kit per household. Kits available on a first come first served basis while supplies last.
For California American Water customers – Call 707-542-8329 ext. 0 during business hours to request a kit to be delivered to your home.
Add to Calendar
Oct. 09, 2021 8:00 am
Oct. 09, 2021 12:00 pm
Drought Drop By
Drop by your water provider's location on Saturday, October 9, 2021 to pick up a FREE water-saving kit. The free water-saving kit includes: 1-gallon bucket to catch water for reuse WaterSense Labeled low-flow showerhead WaterSense Labeled low-flow faucet aerator 5-minute shower timer Garden hose nozzle with self-closing valve Toilet leak detection dye tablets Water saving tips and information Locations: El Verano – Valley of the Moon Water District Corporation Yard – 19039 Bay St, Sonoma, CA 95476 Novato – North Marin Water District Office – 999 Rush Creek Pl, Novato, CA 94945 Santa Rosa – Youth Community Park – 1701…
Novato, Santa Rosa, Sonoma, El Verano