`
Drought Drop By Event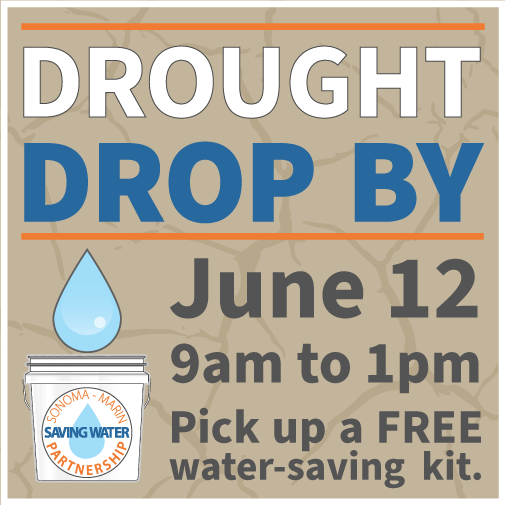 Jun. 12, 2021 | 9:00 am - 1:00 pm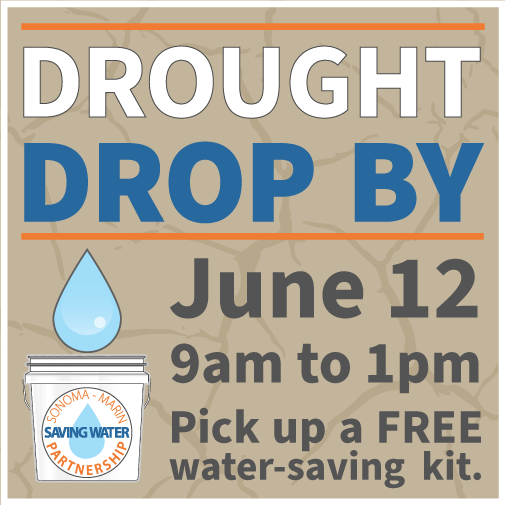 Drop by on June 12 from 9 a.m. to 1 p.m. to pick up a free water-saving kit*:
Bucket to catch water for reuse
WaterSense labeled low flow showerhead
5-minute shower timer
WaterSense labeled low flow faucet aerator
Toilet dye test tablets
Self-closing garden hose nozzle
*While supplies last. Limit one kit per household.
COVID-19 Safety
At this event, local COVID-19 safety protocols will be in effect. Please wear a mask and follow social distancing protocols. If you are experiencing any of the following, please do not attend the event: Fever above 100°F, cough, chills, sore throat, feeling achy, shortness of breath or difficulty breathing, nausea or vomiting, unusual or new headache within the last 24 hours, diarrhea, loss of taste or smell, or tingling or numbness.
Locations:
Sonoma County
Cotati – Cotati City Hall – 201 W Sierra Ave, Cotati
Healdsburg – Healdsburg Community Center – 1552 Healdsburg Ave, Healdsburg
El Verano – Valley of the Moon Water District – 19039 Bay St, Sonoma
Forestville – TBD
Petaluma – Petaluma Community Center at Luchessi Park – 320 N McDowell Blvd, Petaluma
Rohnert Park – Rohnert Park Community Center – 5401 Snyder Ln, Rohnert Park
Santa Rosa – Jockey Club (Sonoma County Fairgrounds Parking Lot) 1650 Bennett Valley Rd, Santa Rosa
Sonoma – Sonoma Town Plaza – One The Plaza, Sonoma
Windsor – Town of Windsor Corporation Yard – 8400 Windsor Rd, Windsor
Marin County
Corte Madera – Marin Water – 220 Nellen Ave, Corte Madera
Mill Valley – Mill Valley Community Center – 180 Camino Alto, Mill Valley
Novato – North Marin Water District – 999 Rush Creek Pl, Novato
San Rafael – San Rafael Community Center – 618 B St, San Rafael
Mendocino County
Redwood Valley – Redwood Valley Grange – 8650 East Rd, Redwood Valley
Ukiah – Club Calpella Parking Lot – 6190 N State St, Ukiah
Add to Calendar
Jun. 12, 2021 9:00 am
Jun. 12, 2021 1:00 pm
Drought Drop By Event
Drop by on June 12 from 9 a.m. to 1 p.m. to pick up a free water-saving kit*: Bucket to catch water for reuse WaterSense labeled low flow showerhead 5-minute shower timer WaterSense labeled low flow faucet aerator Toilet dye test tablets Self-closing garden hose nozzle *While supplies last. Limit one kit per household. COVID-19 Safety At this event, local COVID-19 safety protocols will be in effect. Please wear a mask and follow social distancing protocols. If you are experiencing any of the following, please do not attend the event: Fever above 100°F, cough, chills, sore throat, feeling achy, shortness…